Do you love to laugh? I know I do. It releases stress and just gives you a happy and content feeling. I'm talking about really letting loose and belting out a good one!
When our family gets together for birthday parties and other occassions we all get so silly. I mean you should hear our rendition of Happy Birthday when we sing it. I think we are all trying to see how bad we can sing! We sound like a pack of howling dogs! But for some silly reason it is fun and we all laugh at ourselves.
I love to laugh at myself when my kids make fun of me. At our last party I said "Oh that's a nice card"...before my granddaughter had even read it, and everyone (especially my daughter Lynnette), teased me and said I sounded like a little old lady! So then they kept repeating it in an old lady voice...and I was laughing until I cried.
Oh that's the best kind of laugh...laughing until big ole tears start rolling down your face! As I said before it is just such a release.
I think the Lord wants us to laugh...since it says in the Bible that ...there is a time to laugh...Ecc. 3:4
And He turns our mourning into laughter!
When my girls were younger we used to have "laughing contests"...to see how crazy we could laugh, and if we could make others laugh by doing it. Those are fun memories for me...and guess what?...We still do it on occassions. (Like our family get-togethers.)
Have you had your dose of medicine today? Why not try it! It'll make you feel soooo good.
If you would like to join in the fun today for Wednesday's Walk just click on the button and Jenilee will tell ya how to link up. (:>)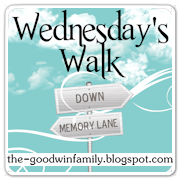 Have a Joy-filled Wednesday everyone!