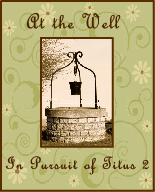 This is the question to ponder today as we gather at the well. I was stunned that this was the topic question, because it hit home for me today.
Tonight I am having a women's gathering in my home. One of my daughters is starting in a business where she sells merchandise through home parties. I committed to host a party for her to help her get started. So, today my mind is going from one thing to the next, and I am feeling a bit overwhelmed at the thought of 20 plus ladies crowding in my livingroom.
I am trying to clean and make my home inviting. I am baking and thinking of how to make my goodies appealing. I am thinking what I will wear. I am answering the phone when ladies are calling to confirm they will be here. And I am getting a little anxious about it all.
I know that I need to be still and let God calm me down, and I know that I need to start my day in the right way by focusing on Him first. Then he can direct my path and give me peace and make me calm.
I am not all that social, and don't have many large gatherings in my home outside of family. It makes me stressed. I always want everything to be just right, and I fear that it won't be. Do you do this? Or am I the only one that gets all tense when hosting parties?
In the long run I know this is silly. Because all of the ladies that are coming are nice Christian people. They will just be happy to join in and help my daughter by looking at the merchandise and purchasing something from her if they find something that they like. They will chat with the other ladies and have a good time.
Why do I make it a great big deal in my mind and stress out so much? I know this isn't what God wants me to be like. He wants me to be given to hospitality. He wants me to do this with the right heart attitude, and not to stress.
I am going to try to surrender my stress to him, and my fears, and just enjoy the time with friends.
Please say a little prayer for me today, so that I can be a gracious hostess and think less of me,...and more of others. That I will put Him first today and every day.
Ok,...I must get on my knees and pray about all of this. You pray too ok?
Thanks! I'll let ya know how it goes.
Linda ... Truthful Tidbits