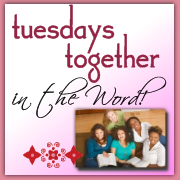 If you'd like to join in, click on the box above
Tuesdays In The Word ~ From I Timothy 6 ~ Godliness and Contentment
It was so good to re-read I Timothy 6 today and be reminded of where true contentment comes from. So often we feel discontent, or uneasy, or harried, hurried, or frazzled, in this hectic world of ours. In this high tech society there is always something coming out that we are tempted to try. Things that are said to make our lives easier, or more up-to-date. Along with these new conviennces comes so much stress to first of all,… pay for these gadgets,… and then the stress to learn how to use them. Then not long after we learn how to use them, they become obsolete and the cycle continues.
Foolish lusting over things that rich men have is a temptation and a snare. Some men drown into destruction and perdition because of the love of money and possessions. Verse 10 of chapter 6 says that the love of money is the root of all evil. And goes on to say that they have erred from the faith, and pierced themselves through with many sorrows. This is not good. It is very, very sad!
The remedy is to flee these things as it says in verse 11, and follow after righteousness, godliness, faith, love, patience, and meekness. These are things worth laying hold on,….as is eternal life. Of course our eternal life comes only from accepting Christ into our lives. And then we are to live out our faith,…doing good works after we are saved. Trusting in the living God, who richly gives us all things to enjoy,…and not only to keep them for ourselves, but to share them with others, distributing and communicating!
In I Timothy 6:6-8 it says that,… godliness with contentment is great gain. We brought nothing into this world and we can carry nothing out. And having food and raiment let us be therewith content.
It is not the things that are evil in themselves,…but do we give our hearts to them,…and always want more? I think that the more we have, the more discontent we become.
My prayer is that I can once again strive to please my Lord with a meek and quiet spirit. A spirit of contentment and thankfulness. How about you?
Let's go back to the basics sisters,…and be content and godly women. Being thankful for all we have and willing to use it for His glory.
Linda @ Truthful Tidbits ~~~March 2009