Join the Titus 2 Blog Party by clicking the picture above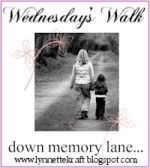 Join the Wednesday Walk by clicking above
The Blessings Of Motherhood
I have been blessed by God in my life,… in so many wonderful ways
He made me His daughter,… and gave me three girls,… I found it a privilege to raise
I shall never cease thanking Him for these great gifts,… and I'm giving Him all the praise due.
And this is a story I'm eager to share, and I pray it's a blessing to you
What I like best about motherhood?…well let me see,… it's a question that's complex and deep
But one of the joys when my girls were so small… was watching these precious ones sleep
And snuggling them close to my heart in a hug was a pleasure so warm and so real
Just knowing that God gave these children to me is a wonderful,… miracle deal!
Oh yes, I did have to "give them away", when they married and moved from my home
But I keep them close always inside of my heart, and there they can never far roam
The love that I have for them just multiplied, when they, their own children bore
And now I find blessings all over the place when their families knock on my door
It's tiring yes, when the living room's full and the chatter is at a full hum
But the joy that it brings when the family sings, makes my heartstrings gently strum
The time passes quickly and comes to an end and they leave one- by- one through the door
But the love it remains, and the memories I gain, gather up and I keep them in store
I treasure the calls and the sweet little voices I hear on the end of the phone
It reminds me of those,… I heard everyday,… when my girls where still at home
"I love you mommy,…can I have a drink?,…. Or,…can I go out and play?"
Voices I loved hearing,… duties I loved doing,… and wish I could still do today!
You may think you want freedom, and time for yourself,…. but I would think again
For soon enough,… they leave the nest,… and your time seems… never to end!
Some days you just wish that they could drop by,… and visit with you for a bit
But their time it is filled with their motherhood skills, and they don't find much time just to sit
But this is ok, and it is the way ,that the Master has rendered His plan
My daughters grew up and in so many ways I accept what He's dealt from His hand
But I count it a blessing,… to have been given these gifts… from my dear loving Savior above
So I would tell you today,…treasure them while you may,…and enjoy them and give all your love (:>) By Linda Hogeland