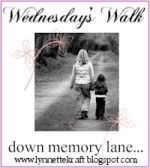 (This is a repost from back in Dec. because I am going to a funeral today and didn't
have time to write a new post)
Tuesday, December 2, 2008
The Life-Less Trees Oustide My Window
As I look out my window today I see some trees without their leaves and they look so life-less, and indeed they do appear to be dead. However they are not dead, they are just going through a normal process. The leaves have gone from green to gold or red and then they turned to brown and fell from the tree and have blown around in the changing wind until someone rakes them up and puts them into large bags and sets them out for the trash man to pick up.
These bare trees look cold and empty and not very pretty at present, but I know this is just for a short time and when autumn and winter have passed, spring will bring them tender shoots once again on each of their branches and the barren looking sticks will flourish with lots of healthy green leaves to sway in the wind. Some of the trees will also flower and lovely white, purple or pink blossoms will be abundant, and this will bring delight to all of those who pass this way.
But during the barren times I can't help but feel a sadness and a longing for the fruitfulness of the tree to return. I think that I am going through a similar time right now because I have not been well and therefore I am not flourishing. I have not been active, or able to enjoy the routine things that daily life involves. I have felt like my strength has drained and my leaves have fallen. But I do know that this is just a passing season of my life, and before too long my life will return to normal.
When the snow comes the barren trees will appear to be dressed again with glistening white coats. Or sparkling ice, like jewelry, will dangle from the formerly bare branches. This will bring needed moisture and it will be good for the trees. And I will be able to look out my windows and enjoy the wintry white wonderland and my spirit will be lifted.
God has a reason for each season of our lives,....and He knows what we need to go through and how to prune us so that we can bring forth abundant fruit at His appointed times. I am so thankful that things are not always what they appear to be,...the trees are not dead,...and either am I! There has just been a quiet time where God wants me to be still and dwell in His presence. My trial has been so small compared to what some people experience. I am not complaining, just reflecting on what God wants me to learn at this time of my life.Yet I will admit that I long for the warmth He will bring and look forward to the new life that will soon appear, and the growth, both on the trees and in my life.
If your life is looking a little bleak, and your branches are feeling empty, don't despair the Lord is always near and He will hear your whispered pray. Don't lose hope, hang on to your faith in Him. Open your eyes to the beauty that can be found even in the autumns of our lives or the cold dark days of winter.Sometimes we need the quiet, still, moments. And before too long we will be seeing new growth sprouting out from the dormant areas in our lives if we yield ourselves to Him, and let His strength flow through us like sap.... bringing new life and new energy to us once again.