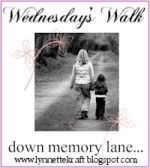 Fifteen years ago I would never have dreamed that my husband John would be playing golf today with a Christian evangelist who is holding a revival at our church! Because fifteen years ago my husband was not a Christian.
I wanted my husband to be saved so much, and I would pray for him all of the time. In fact 15 years ago I had been praying for him for over 14 years! At times I thought he would never get saved and I was tempted to give up praying. But I continued on, and I whined and I begged and I pleaded with God to save my husband.
I had prayed for him to be saved so that I could have a Christian husband. And so that he would go to church with me and I wouldn't have to go alone. I had prayed for him to be saved so that our girls could have a Christian father. I had even prayed for him to be saved because I didn't want him to go to hell and spend eternity there, because I loved him so much. But one day I heard a sermon on the radio, and the preacher said when you pray for your unsaved loved ones, simply pray that they will be saved to bring glory to God. That was a new idea for me, but I began praying that kind of a prayer. I would say, "Lord, just save John in your timing, and in a way that will bring you the most glory!"
Well it wasn't immediate, but God did answer that prayer in just a few months time, and my husband gave his heart and his life to Jesus! So with the total time being 15 years of praying for him,…I had a new husband. And I was so excited and I couldn't stop praising God for saving him.
Well now it has been over 14 years since my husband became a Christian. His spiritual birthday is in December. I remember the cold December night when our staff evangelist came to our home and we all sat at the kitchen table and he carefully showed John his need of a Savior by going through the ten commandments and explaining to John that if he had even broken one of them he was guilty of all, and that it is impossible to get to heaven in his sinful condition without the shed blood of Jesus, who died for his sins on the cross.
John had always gone to church as a child and he knew about Jesus, but he didn't realize that his sins would keep him out of heaven unless he laid them at Jesus' feet and confessed that he was a sinner. He had always thought it was good works that got you to heaven and he always thought he would work at it later when he was ready to clean up his act. He thought that he would be a hypocrite if he claimed to be a Christian and kept doing the things he liked to do without changing his "bad habits". And until that point he wasn't ready to change.
But Norm showed him how he could never be good enough to deserve heaven. He showed him how he just needed to confess that he was a sinner, and that those sins made him worthy of death and hell, and they separated him from a Holy God who loved him so much, that while he was a sinner, dead in his sins, He sent His son to die in his place. All he had to do was believe God's word and accept the free gift of eternal life, that Christ paid for with His sufferings and his death ,burial, and resurrection.
Norm told John that he just needed to trust God and believe what he said in the scriptures. He said he could then give the Lord his life and He would change him through His power, and through the Holy Spirit as he yielded to Him and as he lived for Jesus.
The new joy in my husband's life was evidence of his new faith. He was a new creation in Christ with new desires. He had a bold testimony of how God had worked in his life, and how he had delivered him of 30 years of "bad habits",…which he now called sins!
People saw a change in his life.
These last 14 years have been some of the happiest years of our 32 year marriage. John is not perfect, and neither am I, but now we have a Christian marriage where we can pray together for our needs and for the needs of others, and God gives us grace to face what each day brings us.
If you are discouraged because you have been praying for an unsaved spouse or loved one and it hasn't happened yet, I would like to encourage you to keep praying for them! Pray with new vigor. Pray that God will do it in His perfect timing, in His perfect plan, and in whatever way that will bring Him the most glory.
Our life is supposed to glorify God. This should be our purpose. We need to love Him and serve Him. And we need to give Him the glory for all He does for us everyday.
God is always faithful. Even though we fail, He never fails. We can trust Him with our lives and the lives of those we love.
Keep praying, and keep trusting Him for the answers to your prayers,….in His timing, and for His glory. It's all in God's hands!
By Linda Hogeland ~~~March 2009