This is a picture from about 3 years ago of 10 of our 11 grandkids. Harrison, the youngest one wasn't born yet. My Mom never got to see any of my grandkids. But in heaven someday we will all be together!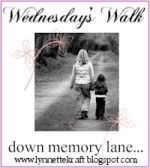 If you would like to take a walk down memory lane with us today, click on the box above and join in.
This is a re-print from last year. I wrote it before I joined in on Wednesday's Walk, and none of you ladies have read it, so I decided to post it this week.
~~~~~~~~~~~~~~~~~~~~~~~~~~~~~
Grandma's Hands ~~~By Linda Hogeland
Recently I read a little story titled "Grandma's Hands" and it touched me. It had a picture along with the story, of several generations of female hands in a circle, telling a story all it's own.
I look at my hands and think how old they are looking. I have thought back to the days when they were pretty, with long painted fingernails at the end of each finger. I used to be proud of my hands,...and was complimented on them lots of times, and was told that I had "pretty nails". (Especially when I was working at a jewelry store for several years and I spent time caring for my hands more because I had to show jewelry and try on rings for people.)
I think back further, to my hands as a child when I used to have excema rash on my hands and I remember how they would itch so badly, and I would scratch them and wring them together so much that they would crack and bleed and make my life so miserable until they would heal. They were not a pretty sight and I was ashamed for people to see them, so I would often stick them in my pockets and try to hide them.
I would have "flair ups" throughout the years with the rash on my hands, and especially during the years when my three girls were babies and I would rinse their dirty diapers out in the toilet and then constantly be washing my hands after each diaper change. Turning little night gowns and socks, and baby clothes right-side out while folding laundry would be agony to my cracked, sore fingers. I would slather vaseline liberally over my hands again and again to keep them lubricated so that I could bend my fingers and move my hands enough to complete my "daily duties" around the house. (I think every door knob was covered with a coating of vaseline back then, as well as the steering wheel of my car!) Ha!
These flair ups and outbreaks on my hands continued for years and years as I am sure even my girls can remember. And even as I type this, I have a couple of places on my fingers that are red and itchy, from washing and cutting up vegetables just last night.
Maybe these problems with my hands have been a little "thorn in my flesh to keep me humble?" I don't know. But I am thankful that I have two hands,...and I have always been thankful since I grew up with a mom that only had one arm and one hand! She was in a car accident before three of her four children were born and she lost her right arm. She had been right handed so she had to learn to do everything with her left arm. Mom always had such fortitude,...and she worked so hard with that one arm.
That leads me to another story. My friend Kathy who lived in Derby, went to see my mom when she was in California visiting her mom one time. When Kathy got back to town she said an interesting thing. She said,..."your hands look like your mom's hand". I looked down at my hands when she said that, and I agreed,...they did look like mom's. Mom only had her left hand, but it is my right hand that especially looks like my mom's. The same callouses from holding pencils too tight, and the fingers are shaped the same. Since my friend Kathy said that to me I have often looked down at my hand and thought of my mother.
Over the years when my girls were little I would put my right hand behind my back and try to do normal things with only one hand. Things that my mom would have had to do, like changing a diaper, or washing dishes in the sink, or pulling up a zipper, or tying a shoe. I suddenly would have new compassion and admiration for my mom,...and just how hard her life must have been, raising 4 kids alone with only one arm, and one hand. A couple of years back when I broke my right elbow I did it again,....I thought , "how did mom ever do all that she had to do, with only one arm?"
Yet, as I look back and think about it, everything did get done. All of the important things! She could still touch my face and dry my tears. She would wrap her arm around me and draw me to herself and provide me with comfort and safety. And she would point that finger towards me in warning when I needed correction, and still deliver a swat or two when I needed it. That left hand typed letters to her family in Texas, and to her many friends over the years, and addressed many Christmas cards. And it also steered our car to the little white steepled church year after year. We attended Siver Acres Community Church, in Santa Ana, California. I love those memories of being in that church Sunday after Sunday, and Wednesdays too, with my mama.
I liked the nap time stories my Mom would tell me, about growing up on a farm and how she would have to help make butter, and pick cotton, and work hard with her hands, just like her brothers did, and like her sister Ethel did, even though Ethel was 16 years older than she was. She'd tell me about washing their clothes on a wash board and having to wring them out and hang them up to dry. And how she learned to kill chickens and pluck them and cut them up for dinner. I remember falling off to sleep as she went on and on with her childhood tales of growing up on a farm in Merkel, Texas.
Long ago and far away are those times, but my mom is as close to my heart as ever.
I don't dwell on the memories of her in the nursing homes, but on the happy years with her when I was growing up.
When I looked at the photo of the hands, and read the story that was with it, I was just moved in my spirit. I don't have any memories of my grandma, and I know my girls' memories with their Grandma Tate are few, but I still hold dear MY memories of her with my girls.
She did love them so much, and she kissed on their little chubby cheeks, as they wrapped their chubby little arms around her neck. She had a comfy lap to crawl up into, and an ample bossom to nestle against as she would draw them close to her heart with her one arm. She always wore lipstick, (just like I do), and when she'd give my girls kisses, she would always leave her mark! (:>)
Mom always had a big purse with loose change inside, and she'd give my kids nickels, dimes and quarters,...and sticks of gum. All of her grandbabies would ask for gum when they would see her, and so we nicknamed her "Grandma Gum!", cuz that's what the kids would say when they would see her.
She would take a hold of their sweet little hands and kiss them and tell the girls that she loved them. And she would sing "Jesus loves me" to them, and "Jesus loves the little children" too. All too soon she got feeble and weak and she spent way too many years in nursing homes, and that is so sad. But through all of our long distance phone conversations throughout the years, she kept up with us, and I am sure she smiled when I would tell her all about my girls.
The very best thing is that we will all be reunited together in heaven with Jesus someday, and we will get to spend all of eternity with her. The Lord will let my girls see the true heart of their dear Grandma Margie. And since she will be perfect in heaven and have both of her hands in her spiritual, glorified body, all of us girls can join hands and form a circle of love.
We can even let our boys in the circle as we praise the Lord together forever more!!!!!!
We should take a picture of our hands someday when we are together, I'll put my right hand in, in memory of mom, since that is the one that looks like hers, and then my left one for myself, and then my girls and their girls. This can be our own "Grandma's Hands" story.
Before too many more years pass by, my girls might be grandmas too, and they will have their stories to tell. Isn't it great to think how the love we hold in our hearts just keeps getting passed down through the generations? Take a few moments to picture your "Grandma's Hands", and think of all of the ways she has touched your lives,....and pass the stories on, so Grandma can live forever in your hearts and in the hearts of her descendants.