***First of all I want to say, HAPPY BIRTHDAY TO HARRISON! This little guy is Two Years Old Today!!!! We thank God for our sweet little Grandson***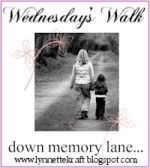 Join in today for Wednesday's Walk by clicking on the button above and linking up your story so we can read about the memories you are sharing today.
Last week we headed to Springfield Missouri where we stayed in a Value Place for a week while we made trips back and forth to Branson which was about 35 or 40 minutes away. We were thinking of purchasing a condo in Branson as a vacation home for ourselves and our daughters and their families to use at separate times when each of us could get away. We couldn't afford a place that was big enough to sleep all of us at one time,...but we thought it would be a fun place to get away,...since we do go there from time to time.
Value Place
Here is the outside of a 3 bedroom condo that we liked.
This is a picture of the livingroom and diningroom.
This is a view of the kitchen and looking towards the laundry room that had a window to the front and a door to close it off..
Here is a look at the little dining room space and the front door.
Here is a shot of the back of the condo. We were looking at the ground floor.
This was the view from the back yard area off of the patio.
These are two fawns that we saw when we were looking at some other condos further up in the hills. We saw them two different days and their mother wasn't with them either time so we think she may have been killed on the highway or something.
One day we went to Silver Dollar City.
There is always a lot of traffic because it is a popular place. But last week there was a Kids' Fest going on so it was pretty crowded.
Our Grandkids love this place. Next month we are going back with our middle daughter Lynnette and her husband Kyle and their family.
I snapped a picture of John when we first got inside the park. The flowers are always so pretty there. And they had colorful pinwheels and banners for the Kids' Fest.
Then John snapped a picture of me.
These were some Champion Cloggers that we saw. They held the title 8 times in a row.
John ate a wonderful meatloaf meal with mashed potatoes and green beans and rolls. I have food allergies so I took my food and we ate our picnic by the trees in the shade next to The Lost River Ride.
These guys were called The Sons of The Silver Dollar, and they were really good.
These ladies were called Pure Love, and they were good too. Two of them were sisters. The one with the dark hair won a yodeling contest and she was great.
This is a picture I took as we were leaving.
Being from Kansas we are used to the flatlands. So it is nice to see hills.
John likes the rocks from where they cut through to make the roads.
I like the rolling hills.
When we got home John bought me these pretty roses for our anniversary.
I love roses.
The vase of roses looks pretty on my buffet.
It was a fun trip. We didn't end up buying the condo, but it was fun looking at them. There are so many fees and expenses that even if we paid cash for the condo there are still 400.00 or 500.00 a month fees and utilities that we would be paying whether we are staying there or not, even if the building was paid for. So we are re-thinking the whole thing. I am not sure what we will do.
While we were in Branson we saw Bill Medley from the Righteous Brothers, and Paul Revere and The Raiders together and that was fun. John knew all of the songs and enjoyed remembering his youth. They perform at the Andy Williams Theater and we have been there before to see Andy's Christmas show and it is really nice.
Branson is so pretty at Christmas time with all of the lights. One time when we were there at Christmas we saw Larry Gatlin and the Gatlin Brothers, along with the Lennon Sisters, and they all did a wonderful Christmas Show. Another of our favorites is John Tweed. He has a five octive range and can sing anything and everything!
While we were in Springfield we did some antiquing and went to a movie and also watched some movies in our room. We could cook in our room and that was convienient because of all of my food allergies. And the Value Place is really inexpensive. There is nothing fancy about it, but it was clean and close to shopping.
Just across the street and down a couple of blocks there was the Ridgecrest Baptist Church and we attended Sunday Morning Service there. It was excellent and we felt refreshed and challenged from the Word, the teaching, and the music. John played golf with two men from that church on Monday at the Springfield Golf and Country Club. God was so good to us all along the way, and then He brought us safely home again.
So, all in all it was a very nice 33rd Anniversary. I thank God for our marriage, and for all of the blessings He has blessed us with over the years.