This summer we have been blessed to be able to spend some fun times with our grandchildren, so this week on Wednesday's Walk Down Memory Lane I thought I would post some pictures of our fun times together when we were making memories, and a little poem called,...Summertime Fun! If you would like to join in the fun this week with a memory from the past or the present, just click on the button below and link your post with MckLinky.
And this post is also for the "Because Kids Live Here,...(and in my case I will add) This Week" to the title since we have our grandson Caleb with us "this week"! So you can get there by clicking on the Weds. button above to connect to Lynnette's site,...and then read both Weds.'s, and Thurs.'s posts,...and join in with your pictures and stories.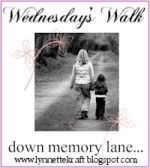 Summertime Fun!
Summertime is a time for fun
When the grandkids come to stay
Sometimes we just sit around
But most the time we play
Movies, popcorn, swimming and more
And they like to go with me to the store
We pick up the foods that they like to eat
And that always includes something sweet!
Grandma has to cook for them too…
That's just something grandmas do
Fruit smoothies is something that we make
Or Grandpa plays "soda jerk" and makes them a shake!
He gives them a ride in his convertible car
And sometimes they go pretty far
But most of the time they just take a spin around town
Music blaring with the top down
We play pool and board games too
We find plenty of stuff to do
It sure is hot out there today
So I think we'll just stay inside to play
Maybe a game of Farkel or cards
Since it's too hot to play in the yards
Whatever we do it sure is fun
To have these kiddos one by one
One day they won't want to come stay
Or to visit Grandma for summertime play
So these moments I'll treasure one by one
Making memories of our summertime fun!