My Brother Dan and I with our sweet sister Judy
My husband John with Judy, as she shows us her beautiful Oregon Coast
It was chilly, and I was doing a little dance to keep warm!
Me showing Judy some neat rocks I had found on the beach
Judy Laree
~ born Oct.8,1942 ~died Jan.16th 2009 ~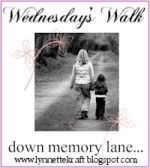 Today on Wednesday's Walk Down Memory Lane I am posting a poem I wrote the other day when I was missing my sister. This month it will be 6 months since she went to be with Jesus. The time is passing quickly. It is hard to believe that it has almost been 6 months already. She was an amazing person, and a loving sister. I think of her all of the time. One thing that gives me comfort is the fact that I will join her one day and we will spend eternity together.
If you want to join in today with a special memory, just click on the button above and link up your story with Mr. Linky.
**********************************
I Miss My Sister
This morning as I dressed for church I thought I heard her voice
Saying "Hi Honey,…how are you?,…and I wanted to rejoice
But alas it was just wishful thinking, and not her voice at all
My heart did that little twist, before it took it's fall
Sometimes I snicker in a way that sounds a lot like hers
And I say,…I did a "Judy laugh" each time that laugh occurs
She always said "I love you" when she called to check on me
And I would say "I love you back",… two sisters filled with glee
She mothered me, she made me mad, we fought like sisters do
But we always knew the bond was there that bound us just like glue
I wish I had my sister back, but that is not to be
She's with the Lord in Heaven above beyond the Crystal Sea
Doesn't that sound beautiful?,…a shining Crystal Sea?
My sister would be loving that,….her spirit is set free
She always was an admirer of beauty in all forms
She saw the best in everyone and won them over with her charms
She loved the Lord with all her heart just like a little child
She trusted Him in all things,…and felt free to be a little wild
"Wild child",… that was Judy when she was young and well
We all had fun when she was here,…we fell under her spell
Enchanting was her child-like faith she made us want to play
Yet she was deep,… and loved the times together when we'd pray
Don't you know she's praying now, to Him for you and me?
How awesome that she knows Him well and that He hears her plea
I miss my sister, that's for sure, and I wish that she was here
But if you knew her like I do she'd wipe away that tear
I'm going to be with her again and this I know is true
Because her Jesus is my Lord,….I'm promised Heaven too!
I miss you sis, I'll see you soon,…Love, Linda June 2009
If you have the time,...read my poem from yesterday's post, and click on the buttons at the bottom to check out two of my daughters' posts from yesterday too. Thanks!