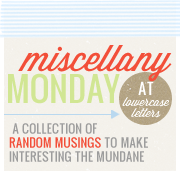 Today for Miscellany Monday I thought I would share some things that have been happening. If you want to link up, just click on the button above.
1. My girls are graduating!
Abigail is on the left and Bailey is on the right. My two oldest granddaughters. I love them both so much!
Abigail had her open house on Saturday, and a good time was had by all. She played two beautiful pieces on her violin at the party, and she was accompanied by her brother Jared on the piano. It was fantastic!
2. I met Courtney Becker at Abigail's party.
He is the 911 operator/dispatcher who took the call the morning our 6 year old granddaughter Anna passed away. His life was forever changed from that morning on. Courtney has told his story, and my daughter Lynnette has written it all in a book, called "He Heard Hannah!"... adding his story to her story of how God has brought her through the loss of her daughter, and how He used Anna's death to save this 911 dispatcher. Being Published by Comfort Books...coming soon!
This is a picture of Lynnette and Kyle, and of Courtney and his daughter Hannah, who is holding a picture of our precious Anna who went to be with Jesus. God has brought blessings from our time of sorrow.
3. Our Grandson Caleb is driving!
Well he is learning. He just got his learner's permit. I cannot grasp this and you can be sure that Grandma will be praying! (:>)
4. Branson Landing Floods!
Here is Caleb again sitting on a bench at Branson Landing in Missouri. We went there last year right after school got out, and took our daughter Lonna and her four kids. We love that area, and saw a great Dancing Waters Light Show along the lake, Well that area is flooded right now. I am hoping the waters will recede and that they can repair the damage. Branson Landing is a nice area with Hotels, Restaurants, and Shopping and Entertainment for families. Near by homes were also flooded.
5. The Royal Wedding was something to behold.
I loved Kate's dress...and I thought they looked so sweet together. I hope they will live happily ever after!