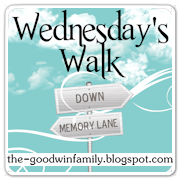 I just haven't been doing anything very interesting since my last post, so I haven't been blogging for a few days. I thought to myself..."Nothing much to blog about". Then I saw Jenilee's Wednesday's Walk, telling us what she and her hubby do when they go on dates. She said she even considered "exercising together" or "reading together" a date of sorts.....just meaning it was time spent together.
Well that made me think of all the things that my husband and I do together. Since we are retired, they are just everyday things...and yet some of them are so special to me.
I get up earlier than my husband, so each morning he comes in and finds me on the computer. He comes over and gives me a morning kiss! I love that he does that. It's like he makes me feel loved right from the start of the day.
Then he goes in to get coffee and usually brings me a cup too. I will ask him how he slept and if he is feeling good...and he does the same with me. (Some days we just wake up not feeling well.... or we are stiff or sore. Or we may not have slept well, so we just want to check, to see how we feel before we plan our day.)
After breakfast we try to do morning devotions, and read the Bible and pray for people. (We miss a few days here and there...like when he goes out to play golf or when one of us has a morning appointment.) But when we do them we pray for our kids and their kids, our extended family members, our friends and their families, and for the people on our Wednesday night prayer list from church. We also have a list of missionaries we pray for, and especially for 6 girls who are in ministry in various parts of the world.
Sometimes he prays and sometimes I do the praying, and some days we pray together, going back and forth. I also pray for the needs of my blog friends...and many of you are on my list permanently...while others are on the list as the needs are made known.
Sometimes we just spend time thanking the Lord for all of the answers to our prayers, (we have lots of answers), and for all that He does for us everyday. When we count our blessings it sometimes becomes so emotional when we dwell on God's goodness. It isn't uncommon for both of us to have tears in our eyes when we are done praying. That may sound corny...but it happens sometimes. God is just that wonderful. Anyway, that is just my very favorite time that we spend together.
This morning we had to take John's van in to get new brakes first thing, so we missed our regular devotion routine. I met up with him and we had breakfast at McDonalds and we just sat there and enjoyed chatting together over our coffee. You would think that retired people who are with each other 24/7 would run out of things to talk about...but surprisingly it is not true with us. As people grow older with each other, their love and friendship grows. It is such a comfortable feeling.
I depend so much on my husband. He is so good to me, that I sometimes wonder how I would ever get along if he were to go to heaven before me. I have even said that I hope I go before he does!
Don't get me wrong, I know the Lord would take care of me and help me...but seriously, I cannot even imagine my life without my sweet husband.
Jenilee...you really got me to thinking this morning about my wonderful husband... and I just kinda get carried away! But you see our lives have not always been like this. We had a time in our lives when we almost got a divorce. Yup..it's true. It is a time I don't like to dwell on. A time before my husband became a Christian.
John and I have been married for 35 years this July...but he has only been a Christian for the last 16 years. And I can truthfully say that after John got saved, he became a new creation in Christ. (We pray for those who have unsaved spouses, because we know that with God...all things are possible!) And these 16 years of having a "Christian" marriage have been so good. Even when we went through really hard times, and the times when we lost our grandchildren, we faced those times together through the power of Christ. What a difference it makes to have Christ as your strength when hard times come!
Yes, we have lost many loved ones in our lives, but especially over the last 6 or 7 years, and we still feel those losses very deeply. But God has been good to hold our hands and walk us through the valley of death. Not our valley of death of course...but the dark valley of the death of those we love. It helps so much to have a partner to share the load with. Not just the heavy burdens, but the everyday stresses of life too.
Well, I guess that is my Wednesday's Walk for today. But I do want to leave you with this thought. Everyday with Jesus, is sweeter than the day before!