Linking up with Christine today for Wednesday' Walk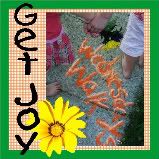 Grandma's Blessings

I'm so blessed to be a Grandma
Grandkids are such gifts to me
I bask in every moment
And commit them all to thee
Last night we had a party
And I got my share of hugs
I watched them with amazement
And my heart was full of love
Some of them have reached adulthood
And some are on their way
Then others are still children
Working hard at fun and play
Yet they each took time for Grandma
Hugged her tight and made her smile
Posed for pictures as requested
And just visited awhile
There I was in all my glory
Praising God for each dear one
Oh the love that pulls my heartstrings
Nearly makes me come undone
So much love I can't contain it
Each one special in their way
Adults, and teens, and inbetween~ers
Each of them just made my day!
Thanking God for each dear blessing
As I name them one by one
Being Grandma is amazing
Half the work and all the fun!
Written by Linda Hogeland
July 2011
I love my family so much. I enjoy my three daughters and their spouses and my 11 grandchildren. I cannot even imagine not having them in my life. My heart goes out to those who want children and have not been able to conceive. My friend Megan and her husband have been trying to conceive for 8 long years, and they have been blessed to have someone special do a fundraiser for them. It goes until August 13th.
Please click on Megan's Blog, and read about the infertility fundraiser. She could really use your prayers...and your help if possible. Thank you...and
God Bless!
Click here on her name:
Megan