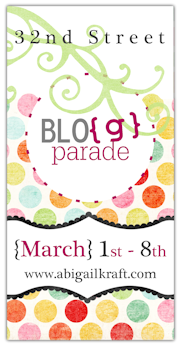 Click on the button above and read about my granddaughter Abigail's fun Blog Parade and then link up and join in the fun.
Here are my answers to Abigail's questions:1. What's your favorite time of the day, and why?
I love morning sunrises. I get up before my husband and have some alone time on the computer. Sometimes I write poems or stories or I catch up on Facebook and reading blogs, or I write a blog post while I enjoy my coffee and breakfast. I pray for the blog friends as I read. Then when my hubby gets up we do our devotion time together and pray for people. I love our time together with the Lord.
2. If health wasn't an issue, what food could you live off of?
I can't eat chocolate, eggs, poultry or nuts, because of allergies, so I'd eat those...But I also could live off of Italian food... I love it...especially spaghetti, garlic bread and salad. And for desert I would have lemon yogurt and shortbread cookies and decaf coffee with milk....or cheesecake would be good too, because I really do miss being able to eat that.
3. If you could have one wish granted (besides wishing for more wishes), what would it be?
That all of my kids and grandkids would be protected, and greatly blessed by the Lord and walk close to Him. (This is my daily prayer).
4. What's one thing that you get teased about a lot?
I get teased a lot because I am overly protective and concerned about everyone's safety. I am always telling the kids and grandkids to "be careful". And they always say "it's ok mom/grandma...don't worry!" (I just love them all sooo much!)
(My 11 Grandkids...and we have 3 more in heaven)
5. If you could choose one movie, book, or TV show to spend your life in, which would you pick? What type of character would you be?
Maybe I'd like to be the Grandma in a Janette Oke book where life was a slower pace and Grandpa and I could have all of our family close by...maybe living on the same property, and I could sit and rock babies and play with the kids all the time, and help out and be a bigger part of their lives...and feel needed! (:>)
(I Love Being A Grandma!)
6. If you could have one talent that you don't already have, what would it be?
I'd like to be able to play the piano really well like my grandson Jared.
7.If money were no object, where would you go on vacation?
I would go to Italy...I love all things Tuscan.
8. If you were an awesome singer, which genre would you sing?
Christian Music...Like Amy Grant.
9. If you could have a $10,000 shopping spree to one store, what would it be?
Nebraska Furniture Mart...(I like the one in Kansas City and they have EVERYTHING in that store) (:>)
10. If you could live in any point in time, when would it be?
Well I really do like living nowadays, with all of the conveniences...but I do wish that America was still a Godly nation and that there wasn't so much evil influence everywhere.
11. If every outfit in your wardrobe had to be one color, what would it be?
Browns. (I love Taupes and Browns and I add interest with colorful scarves and jewelry).
12. If you were one of the seven dwarfs, which one would you be?
(Doc, Grumpy, Sneezy, Sleepy, Bashful, Happy, or Dopey)
Happy of course!
13. What's the last album you listened to?
Leeland's...Love Is On The Move (I listened to it yesterday while I was relaxing in the bathtub).
14. What's something we'd be surprised to know about you?
I do a good monkey imitation!!!!!
Well thanks Abigail...this will be fun to read everyone's answers.