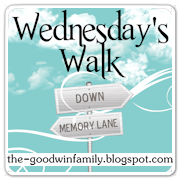 Yesterday was our son-in-law Brad's birthday and I posted a blog about it...(See the post below). So today for Wednesday's Walk I thought I would share how Brad came to be a part of our family. (If you would like to link your post to Jenilee's Wednesday's Walk, just click on the button above)
I think every mother who has a daughter wants her to find a wonderful husband and to live "Happily Ever After", and I was praying for my oldest daughter to find her special man. Well, as Lisa started college and joined a sorority and later moved into the dorm, it wasn't too long until she met Brad. Lisa's sorority and Brad's fraternity were involved in Hippodrome and did a song and dance routine together. That was the first time I caught a glimpse of my future son-in-law.
Lisa was the president of her sorority, and Brad was the president of his fraternity, so they had that in common, and had certain activities that brought them into the same place. I think the spark was there and so I kept praying for them. As they started dating and growing closer, I really liked Brad, and I wanted to know if Brad was a Christian and so I prayed that God would show me if he was. Then one day after he asked her to marry him and she accepted, he came over to take her to church with him and she wasn't quite ready so I engaged him in conversation and then I asked him if he had accepted the Lord and he preceeded to tell me of his conversion experience when he was in his teens. It was so good to know that he loved the Lord...and it made me rest assured that he was indeed the one for her.
They were engaged for a year and then married, and it will be 22 years this July that they shared their vows.
They wanted children and for about 5 years that didn't happen. I had been praying that God would bless them with a baby, but He did it in His timing and in His way, through adoption. And that little blessing that came to them is now 17 years old and her name is Bailey Elisabeth. God had it all planned from the beginning, and I praise Him for all He has done. Brad and Bailey are both great blessings to Lisa and to the rest of our family.
We have a son-in-law named Bradford Scott who is having a birthday, and I thought it would be fun to post a blog in his honor.
HAPPY BIRTHDAY BRAD
Brad is married to our oldest daughter Lisa LaRee, and they have been married for almost 22 years now. Over these years Brad has been a lot of fun to have around. The grand kids are especially fond of him. And he and my other son-in-law Kyle, (who is married to our middle daughter Lynnette) , get along very well. And we are thankful for each of our sons-in-law, and so glad they are brothers (in Christ) and friends.
Brad lost his mother not too long ago, and so I count it a great privilege to fill in for Barb, and love her sweet son.
Brad and Lisa have one 17 yr. old daughter, Bailey Elisabeth, and she brings them much joy and laughter. Bailey loves to hang out with her dad...and so do the kids at their church, where Brad is a Youth Pastor.
Brad is always happy to help us out when we need him, and it is nice they only live about a mile away. He and Bailey have mowed our yard when we are out of town, and they come to check on the house etc. And when we moved into our new house 3 years ago he was there to help and also to hang window coverings and hardware, as well as pictures and wrought iron wall ornaments. He is handy to have around! (:>)
This was his 46th Birthday and we wish him many, many, more wonderful years ahead! We will have a party for him soon and we will also add our granddaughter Cecily to the celebration as she will turn 14 on April 10th. (I will post about her as the day approaches).
God Bless You Bradford!
Love, Mom/Linda