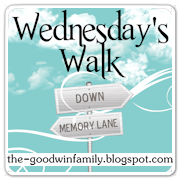 This week on Jenilee's Wednesday's Walk I thought I would share about the time in my life when I worked at
See's Candies
in Southern California. It was really one of my first jobs, and I loved working there. I took a tour of the factory and was amazed at the sparkling clean facilities and all of the equipment and special processes it took to make so many different kinds of candy.
If you have ever eaten See's Candy you know it is the best! And they have such a variety to choose from. Back in those days some of my favorites were the Butterscotch Squares, Scotch Kisses, Bordeaux, Chocolate Buttercreams, Mocha's, Light and Dark Chocolate Truffles, California Brittle...oh I could go on and on and on! I loved it all. Even the crisp little Molasses Chips that come in every pre-packed box. They are very unique tasting, and kind of grow on you. (:>)
I weighed 118 pounds back then and I ate that candy all of the time and never gained weight! Boy those were the days! Now days everything I eat makes the scales go up and up it seems. But my metabolism was higher in those days I guess...plus I was young and way more active. (And yes I was sort of a blonde back then...my dark hair was frosted).
Holidays were always a very busy time at See's. People would crowd into the little shop and we would personally pack 1, 2, 3 or 5 pound boxes as the people picked out all of their favorites. Then we would weigh the boxes and then wrap them in festive paper for the current holiday, or on regular days we'd use the standard white paper and put our little seals on each end. The paper is pre-cut to the size of the boxes and we could wrap those babies in no time! People would usually be in a good mood in our little shop while they waited in line to pick their candy, but just to make sure we would give them a sample or two to satisfy them.
In the summertime they would add some of their white chocolate coated candies and summer collections that didn't melt as easily. And also some colorful bonbons. At Easter they would have these wonderful fruit and nut eggs and various other specialties.
All of the time they carried their world famous lollipops. I loved those too. They came in butterscotch, chocolate, vanilla, coffee, and peanut butter.
People send See's Candies for special occasions like Mother's Day, Father's Day, Valentine's, Christmas, Easter, Halloween...you name it...everyone loves to receive candy...especially See's Candy!
The uniform was a white dress with a black sweater and a big bow pin that had our name tags. I still have my bow and name tag. My brother bought me a Barbie Doll that they made especially for See's Candies and my husband keeps it downstairs with my bow, and some other See's collectibles. He is sentimental because I was a See's girl when he met me back in 1975.
It was such a happy place, and I have very fond memories from my years of working there.
Join in the fun today and take a memory walk! Just click on the button and add your post to Jenilee's link.