Grab a cup of Hot Cider and join in the Five Question Friday Fun! Just click on the button below and add your post!


1. What do you listen to while driving?

2. What is your least favorite thing about Fall?

3. What does your dream house look like, inside and out?

4. Would you ever own a minivan?

5. Do you wash new clothes before wearing them?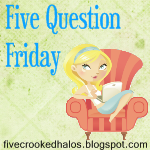 1. I listen to Christian radio stations that have both preaching and music. And I listen to a variety of Christian CD's. Sometimes Classical...and sometimes Country music too.
2. My least favorite thing about Fall is how my ALLERGIES act up! Otherwise I love everything about Fall.
3. My dream house is the one I live in, with a few more tweaks! We built it 4 years ago and I wish we would have put more brick and stone on the outside. I also wish we had put more hardwood flooring in, and nicer carpet. And last but not least I would change my master bath by having a bigger shower, and a make up vanity, and a larger walk in closet with more storage. I do love my house though and I am very thankful for it. I still wake up and look around and tell my husband that "I love this house"!!!!
4. Oh yes we have owned several minivans, and we love them! The Dodge Grand Caravan we have now is my favorite, cuz it has stow away seats and they are so handy. There is so much room and it is great to take on trips. I love that it has a DVD player and a 6 CD player. It is great!
5. I do not always wash new clothes before wearing them..., but I know I should. They spray flame guard and other stuff on new clothes...and I am allergic and sensitive to stuff like that.