Lynnette is always on top of things!
Lynnette can get people to jump for joy!

Lynnette has a natural beauty and likes to commune with nature!
Lynnette was Miss Derby Days once upon a time!
Lynnette always gives hugs to her kiddos!
And she and Abigail are always clowning around!
She also likes to spend time with her sisters!
Lynnette loves her oldest son Jared and here they are at the zoo!
She always thinks of fun things to do with her kids...like having hot cider on the porch by candlelight!
She loves her handsome husband Kyle
She enjoys time with friends...and likes the yellow purse (that Abigail is holding)that I bought her at the Miche Bag Party at Jami's house
She always has great ideas for fun pictures..like this one she took of all of us at the zoo
She also knows how to make homeschool fun by occassionally letting them do their work outside!
And on top of all of this, she gives haircuts to everyone in her house...
Doesn't Silas' hair look nice?
Lynnette Suzanne you are an amazing woman!
I hope your 42nd birthday is very special...just like you!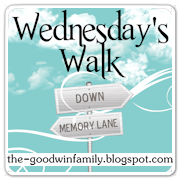 Join in on the fun today and link your post to Wednesday's Walk by clicking on the button above.