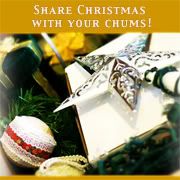 Lynnette @ Dancing Barefoot is having a blog hop where you can share Christmas with your chums. Just click on the button and join in the fun! But hurry up because the party is almost over!
Our Christmas with the Kids and Grandkids was a week before Christmas. We had beef and noodles, cheese bread and trifle to make it easy. And my girls all brought munchies.
There were 20 of us and we all had at least 4 gifts...so it took quite awhile opening gifts. It gets kinda loud and crazy, but we all have fun.
Before the chaos began, John read the Christmas story and gave a short devotion. It is good to reflect on the true meaning of our celebration.
We started at noon, and most of the crew was gone by suppertime, but then our oldest daughter and her family who live here in town stayed longer, and then we went to see the Christmas lights in Wichita. It was a good way to end the evening.
So, the week before Christmas John and I just had quiet time together, and on Christmas Eve we went to a Candlelight Christmas Eve Service. It was beautiful.
Here are some pictures of the fun with the family, and some of our decorations.
I hope you had a joy-filled Christmas...and that you will have a very Blessed New Year.