For Wednesday's Walk today I decided to just post my poem I wrote yesterday! (:>)
If you would like to link up just click on the button and add your post.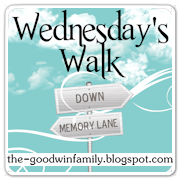 I Am Loved

I am loved with a love everlasting…
That's what the Bible tells me
Oh what a constant assurance…
This promise is my guarantee!
I am loved and forgiven each moment…
For the things that I too often do
Those things that bring Him dishonor…
Lack of faith, distrust, and pride too
He knew that I was a sinner
Yet He still chose to die for my sin
I am loved although I'm unworthy
Now and forever secure in Him
I could not earn His forgiveness
There was nothing that I could have done
God saw that I needed a Savior
And He gave me His much beloved Son
This sacrifice is so very humbling
How could He love me that much?
I deserved death and destruction
But He gave me His own gentle touch
I am loved more than I can yet fathom
Much more than I can understand
But by faith I accept His sweet pardon
Through the babe who grew to die as a man
Now I'm loved… and I've entered His family
Adopted, forgiven, and cleansed
Embraced, nurtured and cared for
With blessings that still have no end
Fruit is there for the taking
As He is the unending vine
And now as one of His branches
I am pruned by His Spirit divine
With pruning the fruit is much sweeter
Than if I tried to produce on my own
And the Spirit is there to guide me
So I don't have to do things alone
I am loved and I am so thankful
My heart rejoices and sings
I am loved by the Master Creator
Such contentment and peace this love brings!
I am loved!
By Linda Hogeland...January...2011