It's time for Miscellany Monday again. If you want to join in and add your random thoughts just link your post by clicking on the button below.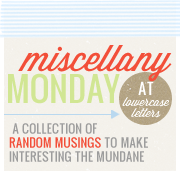 1. First thing this morning I checked the devotion for today by Dr. Stanley. I hope you will check it out too, by clicking below. It is about giving The Lord..."Lordship" of our lives. We were eager to accept Him as "Savior"...but why is it we fail to to give Him Lordship? Too often we don't let Him have control. The Creator of all the beauty of this world deserves our devotion and love...and we need to give Him Lordship of our lives.
Click here:
Today's Devotion by Charles Stanley
2. Saturday my husband and I drove "Flat Stanley" all around our town taking pictures of interest, with "Flat Stanley" also in the picture. It is for a school boy in another town who is studying about different communities. You feel kind of foolish holding up a little flat boy cutout in front of everything while traffic is going by wondering what in the world those old people are up to! (:>) Have you ever met "Flat Stanley"? A few years ago we took "Flat Adelynn" many different places with us. We went to Tennessee and took her to The Grand Ole Opry, to Memphis to Elvis' house, to the Biltmore Mansion...and many more places. We did such a good job for our granddaughter Adelynn's project that the same teacher asked us to do it for another child this year! (:>)
3. We are looking forward to the Valentine Banquet at church in a couple of weeks. It is formal or semi-formal , and the theme is "Cruise Ship Adventure". There will be Food, Fellowship, Friends, and Fun. They always come up with the best entertainment at those banquets. I will tell you all about it on here after it happens...and maybe even get some pictures.
4. Our granddaughter Abigail was in a Violin Trio yesterday at the Symphony. We didn't get to hear them play, but I am sure it was wonderful. She plays in the Youth Symphony, and we have gone several times to hear them. Here's a picture. She is the one with the dark hair.