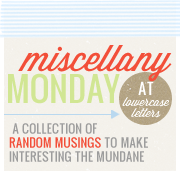 This is a fun little blog hop to join in on. Just list a few random thoughts and click on the button and link up with Carissa.
1. Why is it that whenever we can't find my husband's cell phone it always ends up somewhere weird...like in his shoe in the closet?
2. The other day I was going to get my haircut and I was running late. Hubby decides to set my purse by the door and get my keys out for me. He yells..."Honey your keys aren't in your purse!" I think that he just didn't look good enough...but then I can't find them either. I wonder if I left them in the ignition...so I look in my car. Nope...not there. then I run all over the house and don't find them. Then I glance on his dresser and see two sets and think.."there they are!"...grab them and leave for my appointment. Later we are going to go to the movies...we decide to take my car. Hubby goes to get his keys to my car and... Nope..they aren't on his dresser! So he starts looking everywhere for his keys to my car. (I suddenly realize that I have them...and mine are really the ones missing..but I don't tell him right away!) He doesn't know that I have them and so he searches everywhere...and finds my keys! YAY! The movie:
The Kings Speech
was good by-the-way. (:>) (Except for the scene with the cussing)
3. I love blogging. It lets me be a part of so many people's lives. It's fun to live vicariously through all of you since my life has slowed down so much since we retired! Ha! My kids started me blogging...maybe they thought it would keep me occupied and give them a break! (:>) Just kidding...my girls are wonderful!
4. Tomorrow night hubby and I get to go to a special preview of the new movie
The Grace Card.
I am excited to see it...and I hope enough people are interested in it so that it will come to the theaters here in Wichita. It is from Provident films...same as
Fireproof
and
Facing the Giants.
I love those kinds of movies...they are so challenging, and they teach Christian values. It comes out on February 25th I think...so be watching for it.
5. Christmas was a month ago and I am just putting away Christmas stuff. Yes...I am veeerrry slllooowww! I love Valentine's Day..cuz I am a hopeless romantic. It is a Happy Day...don't ya think? Bring on the hearts and flowers!!!!
God Bless You All!
Love Linda