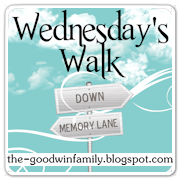 Today for Wednesday's Walk down memory lane I thought I would go back to my childhood and share some memories that I have concerning transistor radios. To many of you people in today's world this sounds odd, because today's kids listen to ipods and MP3 players etc. But when I was a youth and a teen we had little transistor radios.
I remember carrying that little radio with me everywhere. I took it with me when I went on walks, and took it into my room so I could listen to it while I did my homework. I laid it on the blanket with me out in the back yard while I was sunbathing...and I also took it with me to the beach when we would go, or to the park, and I even took it in the car so I could listen to it in the backseat when my mom was driving us somewhere.
When I would go to bed I would put it under my pillow so that my mom wouldn't know that I was still listening to it. She was always telling me to turn it off. I guess she thought Elvis Presley, and Ricky Nelson, and Dion, or the Beach Boys were not good role models or good influences on a young girl???? This was back in the late 50's and 60's.
And now in 2010, I am always looking at my grandkids with those earphones hanging from their ears and I find myself thinking they should turn that music off and visit with me...or join in the conversation when the family is together. And it suddenly dawns on me that I was the same way with my little transistor radio. At first I didn't have any earphones with it...but later on they made those, so I was no different than my grandkids....imagine that! I didn't get very good reception sometimes and I would have to pull up my little antenna...but today with technology the kids don't have that problem.
I had to chuckle at myself when this memory popped into my mind...and I thought that the more things change,...the more they stay the same. (:>) Kids in every generation are going to enjoy music.
If you want to join in the memory walk today just click on the Wednesday's Walk button and link up with Jenilee. It's a fun way to remember the past and share it with others.