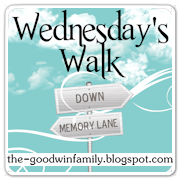 I am joining in on Jenilee's Walk Down Memory Lane today. If you would like to link your post, just click on the button above and join in the fun.
Today I am remembering all of the excitement that I experienced 3 years ago when we moved into our new house. Actually the excitement began the day we decided to build the house...and that will be 4 years ago this June. It took 8 months for the house to be built, because here in Kansas they can't do too much work when the weather is freezing cold or when it is sleeting or snowing, or raining, or extremely windy.
Almost everyday of those 8 months we drove by to see the progress on our home. It was exciting to get out and walk around the freshly dug basement, or to later walk through the framed rooms and imagine our lives here. Then as the finishing details all started to come to life we grew even more excited.
During those months we had to choose every item that would become our home. So many things to pick out. It was a long process and yet it was all exciting to us. And it was amazing that we agreed on almost everything. (Or I should say that it didn't take too much to persuade my hubby to go along with what I liked!) Ha! He is so very good to me.
He was more concerned with the "bones" of the house, and that it was wired for sound in the basement where he was going to put his big screen tv, or that the garage doors were high enough and wide enough for the vehicles. And he wanted the covered deck and enough outlets everywhere etc.
I on the other hand was concerned with colors and carpets and floorings and countertops and cabinet colors and decorative details. Yes we are opposites, yet we work well together. And even though we are retired and not newlyweds, we often felt like our life was just beginning. Life together in our new home, to enjoy in these Autumn years of our lives.
During the months when it was being built,I pictured where the furniture would go and what items I had that wouldn't work in the new house, and I also planned for the furniture pieces we would need to buy to fit into the new place and make it comfortable. There were nights I couldn't sleep because of all of these things running through my mind. I was like a child anticipating Christmas.
We went shopping together and had fun picking out new pictures and bedding and curtains as well as brick and stone colors and paint colors. And as I said, it was a long process.
During that time we had the added stress of keeping our house that we were selling clean and ready to show at a moments notice. We always loved that house and had no doubts that it would sell quickly. However it took almost nine months for that to happen and it was a time filled with a little anxiety, as we really didn't want to have two house payments, or have to move twice if it sold too quickly.
But it all worked out fine and in God's perfect timing. We did have to pay double payments, but only for two months, and that two months allowed us to close on the new house and take our time moving in a little bit at a time, so it was totally worth it. When you do reach a certain age like we have, you don't move as quickly as you did when you were young...and we found that out. It took me longer to pack and unpack things, but when it was all said and done it was wonderful to look at the finished projects....and to call our new place HOME.
We took pictures all through the process, but I don't have them scanned into this computer, so I will just add a few of our house that I do have in here.
I am so thankful every morning when I wake up in our new home. We thank God for it all of the time. We are really enjoying it and count it a blessing that God has allowed us to have it.
We lived in our last home for nearly 20 years and it wasn't new when we moved in, so there were things about it that were harder to take care of. One of those things was a large yard that required lots of hard work and a lot of time to water.
We chose a small yard this time and had a sprinkler system put in so that we don't have to move the hose like we did at the other place when we watered the lawn. And that house had an upper lever with many stairs, as well as stairs to the basement. This house does have stairs to the basement, but we are still managing them ok. My hubby spends more time down there than I do, because he is a collector of antique memorabilia and the whole finished basement is his display place! (I am thankful that he does the vacumning and dusting there since it is his domain).
The grandkids were sad when we told them we were moving, because it was the only house we owned since all of them were born. So the oldest grandson Jared who is 19 had many memories that were made there, and on down the line each grandchild held special memories. But we are hoping they will one day feel the same way about this home, and that we will make new and happy memories here with each one of them.
After all, it is the love in a home that matters...and how we share the love with all who enter.