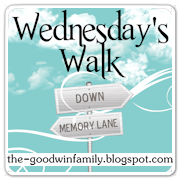 This week for Wednesday's Walk down memory lane I'd like to share about my special friend. If you would like to join in with your post and link up, just click on the button and share your memory.
Over thirty years ago when we moved here from Colorado, I felt lost and lonely. But slowly I started to meet people and make friends. One of the special people I first met was a lady named Myrna who ran a consignment shop. I had taken some items in to see if she would be interested in buying them, or taking them in on consignment. She did indeed pay me for my bag of clothing...(since back then she dealt in re-sale clothing, but has since moved on to collectibles).
I would visit that shop many times and our friendship began to grow. Since then she has had her shop in several different locations and she even moved out of town to another town that was a couple of hours away, and had three shops in her new town...but our friendship remained solid. We shared many common values as we were both Christians...and I loved her family and she loved mine. We kept in touch those years that she was gone, and had many phone calls, e-mails and get-togethers. And eventually they moved back to town when her husband became ill.
When I began having grandkids she thought I was such a silly grandma as I would go on and on about the joys of being a grandma. Not having experienced that yet, she just couldn't quite understand the reason why I was so wrapped up in everything about them. That is until one day when she too became a grandma... (She has five grandkids of her own now and one of them is a newborn and she is just eight days old) Now this is just one more thing we can share together. She prays for my girls and their families everyday, and I pray for hers. We are really more like family than simply friends.
Four years ago on May 1st, Myrna lost her husband Lonie to Pancreatic Cancer. However she would be the first to tell you that she didn't "lose" him...because she knows exactly where he is... He is in Heaven with our Lord! Just about the same time she also experienced her dad's "home-going".
During the loss of many of my loved ones my friend Myrna was there for me with prayers, encouragement and loving kindness. These four years since her husband's passing I have tried to be there for her too. Friendship is a give and take thing...and we have experienced both. We have both been in the position where we had to learn to be "gracious receivers", and accept help.
After Myrna's husband went to be with Jesus she closed her last shop here in town, and for the last few years she hasn't had a shop. She has been going to grief group and re-thinking her life. But recently she opened one again. She is a "shop keeper"...and I think it is just in her blood. It is her mission field. She is a caring person and very friendly, so people are drawn to her. I always say she is a "people magnet"! She shares her faith with the people she meets and through the years she has made many friends through her shops. It gives her a place to go everyday and a place where she can be a part of her community. I like to stop in and join in on the fun as I did just yesterday and we had several good giggles and laughs with the people who came in. I usually find something to purchase while I am there too. I have recently purchased two turquoise pendants, a silver chain and a silver and turquoise ring.
Her current shop is called
Keepsakes and Treasures
. I know this is because of the merchandise inside her shop...but I think it best describes the friends she makes in her shop. And I know for a fact that the friendship I found in her shop over 30 years ago is indeed a
Keepsake
and a
Treasure
to me.