I am late doing Wednesday's Walk today, because I have been out running errands with my friend. Most of you have already linked your posts, but if not, just click on the button below and after writing your post, link up with Mr. Linky on Lynnette's blog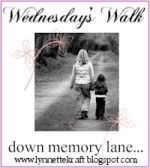 .
I had a very nice Mother's Day this year. On Saturday my middle daughter, Lynnette asked me to go to lunch with her and then go on to a huge Antique Mall. We took over two hours browsing through the mall and had a great time talking. This was a rare treat to get to spend time alone with her since she has 6 kids and she keeps busy homeschooling, and being a wife and mother. I don't have pictures, but she took some and she posted them on her blog, (Dancing Barefoot...button on my sidebar).
Then on Sunday, my oldest daughter Lisa asked us to come over for lunch. She is a very good cook, and she made us green chili shredded beef tacos, homemade salsa, salad, chips and iced tea. It was so good we all had to have seconds. For dessert we had ice cream with toppings. Then I got a nice pair of silver and
howlite
earrings. They were from "
Inspiranza
Designs", and I love them! Lisa sells this jewelry, and it is really nice! We enjoyed an afternoon of visiting and it was really nice! We took several pictures with Lisa and Brad and their daughter Bailey with Lisa's camera and so she is going to post them sometime soon on her blog. (Uniquely Us...button on my sidebar)
After we got home, our youngest daughter Lonna and her four kids came over to visit for awhile too. Lonna is a single mom and she works full time and the four kids go to school and are involved in several activities, so we don't get to see them a lot. They live about 30 minutes away too, so it isn't easy to just stop by,... anyway, I was appreciative and happy to see her and the kids on Mother's Day. I took some pictures and so I am posting them today.
I am so blessed to have my husband, my daughters, my son-in-laws and my 11
grand kids
in my life. I thank God for all of them!
Linda...May 2009