Please join us on Wednesday's Walk Down Memory Lane. Just post your story, then click on the button below and add your name to our list.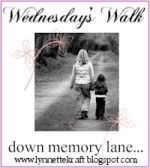 In honor of Mother's Day which is this Sunday, I thought I would post a little poem in honor of mothers.
My Mother has been in heaven since 1986. We were always close, and I loved her very much. I don't have any pictures of her in this computer, so I can't share one today.
This picture is one of my mother-in-law Edith and I, a few years ago just after I fell on the ice in her driveway and broke my elbow and also dislocated it. She felt so bad for me when that happened. Our relationship was especially sweet in the last five years before she died. I thank God for that,..and for the many things she taught me, and for the joy she brought into my life.
**************************************
What is a mother… if not a true gem?, she brightens our lives and caters to our whims
A mother listens to all of our fears, helps us face them, and then dries our tears
A mother picks us up when we stumble, but she says, "try again, it keeps us humble"
A mother teaches us at every turn, and tells us we have lots to learn
A mother comforts us when we're sad, and she also forgives us when we're bad
What is a mother… if not our best friend?, who tells us the truth till the very end
A mother teaches us everyday, and cheers us on at work or play
A mother provides for our every need, clean clothes, warm home, our mouth she feeds
A mother puts our needs above her own, and this is true until we're grown
A mother leads us to the Lord, and tells us stories from His Word
What is a mother… if not God's gift?, she always gives our heart a lift
A mother's love is always there, and yes, it follows us everywhere
A mother never withdraws her love, and that is true of God above
A mother is always kind and dear, her love grows stronger every year
A mother deserves our respect and affection, as we follow her advice and direction
What is a mother?…someone loving and true, everyone's had one, even me and you
My mother was precious, I loved her so, but Jesus called her to heaven many years ago
If you still have your mother, honor her today, and make her feel loved on her special day
Share a fond memory, write her a poem, frame a small photo from when you were home
Just tell her thank you, for all she has done, remember your mother, you only have one!
By Linda Hogeland May 2009