One thing I like to do is to take pictures of God's creations.
The Heavens declare the glory of God!!!!
I love my husband, my family and my friends, and I love being with them,....BUT today Lynnette is wanting us to share some of the things we enjoy doing when we are alone. So I thought of several things that I do when I am alone and I will share them with you in random order.
At home when I am alone I like to play the piano,(by ear cuz I don't read music). I just play a bunch of hymns and sometimes sing along. I enjoy that, but I only play for my pleasure,...too embarrassed to play for people. I guess I do play around my little grandkids, my husband and my girlfriend sometimes, but not very many people.
I am a reader, so when I am alone I love to read! And I love to go to the library! It gives me a tranquil feeling. I like the hushed tones in the library, and it makes me feel relaxed and calm. I sometimes go to the magazine section and pull down the little box with several issues of Romantic Homes magazines, and just sit in a comfy chair and thumb through each issue. I love to decorate and there are some pretty awesome ideas in those magazines.
If I feel like it, I might look through Family Circle, Woman's Day, or Good Housekeeping for recipe ideas, helpful hints, or an article that interests me. I can also read inspirational stories in Guideposts, or just catch up on what's happening in a People Magazine.
Then before I leave the Library I go through the CD section and see if they have any new CD's I'd like to check out, then the DVD's and then on to the books. I usually go home with a bag full of goodies,....and it's all free! You can't beat free!!! We are getting a big new library in a couple of months and I am so excited.
We also have some cute little shops here in town, and I like to browse when I have some "me" time. One of them is called Bittersweet and it is also a peaceful place. I like the lady that owns it and she always greets me with a smile and a warm welcome. There is always soft music playing as I look around. I can usually find a little something in there, and more often than not I buy the CD that is playing. ((smile))
Nextdoor to Bittersweet is a cookie store called Blackberry Lane, and I go there next. I can't eat their cookies because of my egg allergy, but they have awesome little kitchen gadgets, aprons, spices, and other things I like to look through. And connected to that shop is a place called Fun At Heart, and they sell clothes, purses, flip flops, accessories like scarves and jewelry,...just my kind of place.
The best thing about these little shops is that they aren't crowded. If I am up for it I can go to the bigger stores like Kohl's, Target, Wal-Mart, or the huge new Dillons Market Place, but I usually go there when I need to buy food, or gifts, or need an outfit or a specific item.
I told you that I love to decorate, and so it makes sense that I like to go into model homes to check out the new houses and to see how they are decorated. I have loved to do this since I was a child and I used to do it with my mama. I have been in all of the models in our town!
I also love to take a snack and a drink, drive to the big park, and sit in my car listening to music and watching the ducks on the lake, or the children that are feeding them.?
I like to watch the families and the people having fun at the park. I have done devotions as I sit there, and I also pray out loud and praise God, or I sing along with the music on my CD's or the radio. When my snack is done I might drive to the Dollar Tree and go in for all of the little items I buy there, like gift bags, colored tissue, cards, note cards, pens, hand cream, toothpaste, and any little thing that catches my eye. I love how you only have to pay one dollar for each item. Don't ya love dollar stores?
Occasionally I go to a few Garage Sales on my own if it is Thursday. That's our best day for those. Books are something I get for 50 cents or less, and sometimes a movie or two. And of course I look for decorative items, old glassware or some little trinket that jumps out at me.
When we were planning our yard when we first moved in, I used to drive around town looking at every body's bushes, trees, flowers, and plants, rocks, fountains and lawn furniture. And I still like to take rides around town on Sunday's after church or go to the nearby towns. We don't have to drive too far before we are in the country, so it is nice just to take a little drive, especially love it in the autumn when the trees are pretty.
I talk to God as I look at the trees, the fields, and gaze at the blue sky, or the birds flying by. My husband is usually home watching golf or football after church, (depending on the season). After we have finished lunch I just tell him that I am taking a little ride. It's when I can enjoy my music and just relax as I drive. I might make a call on my cellphone, or I might pop over for a visit with my girlfriend. Then I come home and take a short nap before we go back to church on Sunday evening.
Other things I like to do: Watch HGTV,... House Hunters,...and of course more decorating shows, and Design Star is my favorite. I watch the Food Channel,...love Rachel Ray, Barefoot Contessa, and a lot of others. (I do try some of their recipes, but usually I just throw together something similar with items I have on hand). I love the Hallmark Channel, they have some good movies. Game shows interest me too, like Who Wants to Be a Millionaire?, Wheel of Fortune, Are You Smarter Than a Fifth Grader?, and Family Feud, and old game shows on the game channel. I mean I just watch them once in awhile, but I do like them all.
Another thing I like to do is to go pick out pretty flowers to brighten my day. Every once in awhile I just go do that and it is fun to pick several things that look pretty together, come home and pick a vase or a pretty pitcher to put them in and a special spot to place them so that I can enjoy them each time I walk by them.
Don't ya just love flowers?
Ok,..how can I not mention that I love to check Facebook, and write on my blog when I am alone! It has become a favorite past time. And when I am not writing, I am reading all of your stories! Or I am praying for all of you. This is too long, so I had better stop.
I can't wait to read what some of you like to do when you are alone. Just click on the button called, "So We Don't Forget",.. and link up your stories today.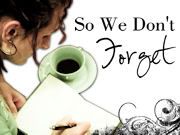 And when I am not alone,...I love being with my family!
Lynnette took this last night at our family gathering.