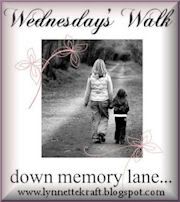 Thirty Three Years Ago I Married My Prince Charming
Thirty three years ago I gave my life to him
And that is when true happiness was destined to begin
I had no way of knowing what my future now would hold
But I said the vows, and trusted him, his heart was made of gold
He gave me all I'd dreamed of,… a house,… a home,… true love
And little did I know back then that he was sent from God above
Security was something that I knew so little of
I'd struggled in my lifetime, and hardly kept my head above
At times I was a drowning,…bobbing up and down for air
Along came my prince charming, and he gave me so much care
He cared for my three children, and he raised them as his own
They had everything they needed up until they all were grown
He has loved all of their children, he is "Grandpa" to them all
Little did I know the blessings that would follow my heart's fall
Yes I fell for this dear person and I've loved him all these years
And yes, we've had our problems, had some fights, and shed some tears
But we're in it for the long haul, trusting Jesus as we live
This was not from the beginning, but our Lord said,…"I Forgive"
So now God is in our marriage blessing it from day to day
And I thank Him for "Prince Charming" the one with whom I pray
I love to pray together for the needs of those we love
Did I mention that this marriage was a gift from God above?
Written by Linda~~~July 2009
~~~~~~~~~~~~~~~~~~~~~~~~~~~~
July 25th John and I celebrated our 33rd Wedding Anniversary. I thought it would be fun to post a few pictures of our wedding day, but I don't have any pictures scanned into my computer, so I thought that maybe I could take some pictures of some pictures! It really wasn't such a great idea because they didn't come out very good,...but I am going to post them anyway! ((smile))
We look at these pictures from when he was 30 and I was 25, and we hardly recognize ourselves. We joke around and say,..."Who are these people?" It sometimes seems like a lifetime ago,...and other times it just seems like yesterday! Isn't it funny how that can happen?
Ok, that's it for my Wednesday's Walk Down Memory Lane today. I hope you will join in by clicking on the button at the top, and adding your memory.