"Wednesday's Walk" has a new look and a new title. It is now called "So We Don't Forget". And Lynnette over at Dancing Barefoot is going to guide us through our memory walks by giving us a topic to write on each Wednesday. Today's topic is "School Days".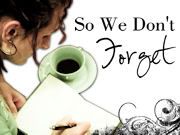 Click on the button above and join in on the fun.
I grew up in Southern California and I went to a wonderful little elementary school called,..."Diamond Grammar School". Since I was born in the 50's I guess they used to call it "Grammar School" back then in the....olden days!
I had a very nice principal and his name was Mr. Snell. The school office was a very old building and in the beginnings of the school I think
that building
was the
entire school
. But then they added bungalows, and then more modern buildings as the years went by.
I lived really close to the school,...just around the corner, and so all I had to do to get to school was walk through the playground and I was there. Since we were so close to the playground, my little brother and I, and the neighborhood children would play over there all the time. We would swing on the swings and go down the slides and play hopscotch and two square in the painted areas. And I loved playing on the bars and on the jungle gym too.
I also have fun memories of playing kickball and softball on the baseball diamonds with the neighborhood friends. In the summer we would get the kids together and have softball games and baseball games. I was one of the few girls in the neighborhood, so I would hold my own in a game with the boys. I loved it, and I guess back then I was a tomboy.
I went to Diamond Grammar School from Kindergarten through the 6th grade. I had so many wonderful teachers and I remember them fondly. Since I lived so close I could stay after school and help the teachers erase the chalkboards and do clean up and I got to really know the teachers well.
Some of my memories include being "Queen of the May" one time in the 5th grade. It was a city wide festival that we had on May Day, which was May 1st. There was a May pole with long ribbons connected to it and there would be music and May pole dancers who would grasp the ribbons and dance around the pole, weaving up and down and in and out until the ribbons were all woven around the pole in a colorful pattern. Each school in the district would pick a Queen and a King of the May Day, and that year my school picked me! I was so excited.
Another fun memory was our yearly school carnival where there were booths set up and each booth contained a game to play for prizes. In one booth I won a huge Teddy Bear bank. And I loved the cake walk where they would play music as you walked around the circle and when the music stopped you stood on a number and if they drew your number you won a cake to take home!
We had talent shows in the school cafeteria which also was used for meetings and gatherings and it had a stage. Two of my girlfiends and I had our coats on and we had suitcases and we sang a song called "Sentimental Journey" as we pretended we were waiting for a train. At the end of our song Mr. Snell the principal, yelled "All Aboard!", from behind the curtain and we picked up our suitcases and ran off the stage. It was fun.
One year for the talent show, we had a Hawaiian theme and our 4th grade class all dressed in moo-moo dresses and Hawaiian shirts with flower leis around our necks and we sang a Hawaiian song and did the hula. We didn't have much money in those days but somehow my wonderful mother found me a colorful moo-moo so I could join in the activity.
We had a "safety" patrol who wore little round metal badges and they monitored the playground and the bathrooms and the drinking fountains so that when the recess bell rang to signal that recess was over they made sure that kids weren't goofing off getting drinks or playing in the bathroom, or lagging behind on the playground and not forming in their lines to go back to their classrooms. I loved being a "safety" and I could write tickets to those kids who weren't obeying the rules! Sometimes my power went to my head! (smile)
One year our school taught the upper grades how to square dance, and that was fun. At the end of the year we all went on a field trip to Knott's Berry Farm and we squared danced in the outdoor Wagon Wheel theater area which was surrounded by a half circle of Covered Wagons, a front stage, and then the public seating. After we performed we got to go on the rides and then walk around the ghost town and then eat at the Chicken Dinner Restaurant, which served their famous Knott's Berry Farm Jams and Jellies with their homemade biscuits and fried chicken.
I loved the spelling bees that we always had, and I loved playing "Thumbs up~ 7 up" in our rooms at recess when we couldn't go outside because it was raining. Everyone put their heads down on their desk and their thumbs up and then the teacher would pick 7 of us to go around and flick the thumb of one person each. As we touched their thumbs they would put their thumb down so nobody else would pick them, and then the 7 pickers would go up front when they were done and the teacher would say,..."Heads up", and those 7 people that got their thumbs touched would look at the line up and try to guess who picked them. If they got it right they got to change places and become a "picker". For some reason we all loved this game. (smile)
One year our class planted a garden and then we would all take our turns weeding it, watering it, and harvesting the vegetables, and then we ate them. That is the first time I remember eating a radish, and it burned my mouth and I had to raise my hand and ask if I could go get a drink of water. I didn't like radishes after that,..but now I do.
Right across the street from our school office was a little street that had Cliff and Maudie's grocery store where you could run an account and pay by the month, and then next to that was our "Dime Store", as we called it. It was a little variety store where we could get penny and nickle candy, jacks, bubble gum with baseball cards in it, paddle balls, coloring books and crayons, sling shots, caps and cap guns,...anything a kid could want! They had 5 cent fruit flavored suckers and if you unwrapped it and there was a little white piece of paper inside on the back of the sucker, you would win another one. I loved it when that would happen. I thought it was neat that both of these stores had houses behind them where the owners lived. I always wished I could own a store someday and live behind it.
As we headed back home from the dime store we'd stop at the gas station on the corner across from Cliff and Maudie's and put our money in the pop cooler and get us an ice cold bottle of pop. We had to slide the bottle neck along the metal channel and pull it out of ice cold water after we put our money in the machine. Then you would pop off the cap in the bottle opener. These bottles could be returned for a deposit refund, so my brother and I would save them up and take a wagon full of bottles back to get some money and then we'd go spend it on junk at the dime store. We could get a whole bag full of candy for hardly any money. Which is probably why I was always having to go to the dentist!
Things were fun back then when I went to Diamond Grammar School,...and it was fun re-living those days with you today. My husband just reminded me that that was over fifty years ago, as today is my 59th birthday!!! Yikes!