Today for Wednesday's Walk Down Memory Lane I wanted to share this awesome picture that I borrowed from my blog friend Amy. Isn't it cool? Amy is being led by the Lord to adopt a baby from Ethiopia, and she and her husband feel that God is directing their path and leading them in this direction. I pray that it will all work out well for them. You can read all about it by clicking on the button called,..FILLED WITH PRAISE...On the top right of my sidebar.
Are we on the right path in our lives?????????????
"Thomas saith unto him, Lord, we know not whither thou goest; and how can we know the way? Jesus saith unto him,
I am the way
, the truth, and the life: no man cometh unto the Father, but by me." John 14:5&6
I learned these verses when I was a child, and also a little song that says..."One Way... God said to get to Heaven,...Jesus is the only Way". These verses and this little song have stuck with me all of my life. From a child I have always known that trusting in Jesus was the only way to get to heaven.
But there have been other times in my life when I didn't know what path to take concerning earthly decisions. Many times I felt lost and undecided as to which path to take. I headed down the wrong path many times, because I didn't stop and ask direction from God. I just hurried down the path on my own,...and didn't even give God a chance to direct me. I didn't pray about my decision, I didn't search direction from His word, and I certainly didn't wait on His leading, because I wasn't walking close to Him in those days. And I didn't even ask advice from people who had more experience than I did. And if I was given advice,...most of the time I didn't take it.
I know now that the Lord was never far away from me, and He was always willing to take my hand, stand by my side, and walk down those paths with me. I was just being a stubborn child, running ahead of Him and not acknowledging His presence in my life.
Needless to say, those times in my life were not very happy years. It wasn't all bad,...I did have some happy times, some fleeting joys, and some true blessings that my merciful Lord allowed me. Regardless of my willfulness and my neglect of Him He was always near me, just waiting for me to turn back towards Him and grasp His hand.
After 12 years of struggling on my own I finally did turn around, repent, and ask Jesus to forgive me. And you know what? He wrapped His arms around me like a loving father, and He said,..."I Forgive".
That was 30 years ago! And I have felt His presence in my life ever since. I still rush ahead of Him sometimes, but I hear Him saying,... Slow down my child..."Be still and know that I am God." Psalm 46:10
I don't always know what I should do right away, but these days my husband and I pray together and seek God's guidance. When we know that things line up with God's word and with what we know in our hearts is right,...we proceed through faith.
Even when you are walking close to the Lord, obstacles are still in the way and He just helps us through them with a tight grasp on our hands. A Christian's life is not free of trials and hardships,..but He never leaves us nor forsakes us through those hard times. We find out that He is our peace and our comfort and our strength, and that we can even know true joy in our hearts because of His presence during those hard times.
I know also that we are just humans,...sinful people who are saved by God's grace.
Nobody is perfect. And the best news of all is that He is a forgiving God. I know this first hand. He lets me be me. He lets me be who He created me to be. I don't have to try to be anyone else,..He loves me just the way I am.
So, I look at the picture of the beautiful canopy of trees arching over the path, and I think of myself as a carefree child of God skipping along merrily, singing a little tune. And I picture Jesus smiling at me, walking with me, ahead of me, behind me...taking joy in the fact that I belong to Him, and that I am not ignoring His presence in my life anymore.
I hear Him say to me,..."I am the way, the truth and the life!"
There is such beauty in my life when I follow the Lord!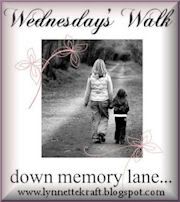 Click on the Weds. Walk button above and link your memory today.