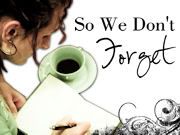 What we looked like when our life started together. This picture was taken in the backyard of our first house.
You can click on the picture to enlarge it. Our girls were teens in this picture, but when we got married they were 9, 8, and 4
And this is what we look like today
(No pictures of our first house scanned into this computer,...sorry)
This week for "So We Don't Forget", Lynnette wants us to write about the first house we had after we were married. So I will tell you about the house we lived in 33 years ago. It was in Littleton, Colorado on a quiet little culdesac called S. Ash Circle. It was an olive green ranch style home, and it was all on one level with a full unfinished basement.
I had been married for 9 years previous to this marriage, and so I brought to my marriage with John, three little daughters who were in need of a loving father, and a secure home life. A few years later he adopted them as his own, and he has been a wonderful father to them, and they love him very much.
I loved that 3 bedroom house,...our first home together, at the end of the culdesac. It had a small front yard and a huge stacked- rock- terraced fenced backyard with a hill off to one side. The kids spent many happy hours playing in that nice backyard. It was a lot of yard work for John and he worked hard to keep it nice. My job was dragging the hose and sprinkler all around to water it all and keep it green, and that kept me busy. The kids loved playing in the sprinklers in the summer time and they liked to hold the hose to water the trees and flowers for me.
We would bring a blanket outside in the evenings and sit on that hill in our backyard and look at the stars while the girls would do somersaults down the little hill. We could also see the lights of Denver in the distance, and it was a nice view.
We had friendly neighbors, and since there were only about 8 houses on that culdesac we all got together on several occasions, and even had a block party now and then.
John and I actually got married in that house and had a huge reception with family, neighbors and friends, so this is another reason I remember it fondly.
I threw John a surprise birthday party in that house the first year we were married and I had it planned that all of the friends and neighbors gathered at a certain time and then walked up to our house together and rang the bell and I sent John to answer the door and they all yelled surprise when he came to the door. He was totally shocked. I had goodies and a cake stashed away and the neighbors brought gifts and it was loads of fun. He was 31 that year, and I was 26.
Being from Southern California where it never snowed, I didn't know how to scoop snow off of the driveway, so our next door neighbor took pity on me one day and did it for me as I watched and learned how it was done correctly. The kids and I built many a snowman in that yard in our house in Colorado, and there were always neighbor kids there to help.
That street wasn't a busy one since it was a circle and the girls could safely ride their bikes and also skate on the sidewalks and I could keep and eye on them from the living room window. I could also watch them walk to the bus stop at the end of the street in the mornings and watch them get safely on the bus and then off again in the afternoon.
When it was too cold to play outside my little girls would play in the basement. The youngest could ride her tricycle down there and the older two girls had a big rug to put the toy box on and they would spend hours playing and building houses and tents with the couch cushions off of the couch we also had down there. Speaking of that couch,...John said I should tell you of the time we put that heavy hide-a-bed sofa down there in the basement the night before we got new living room furniture. It was late and he had forgotten to ask a guy neighbor to help him, so he was trying to move it downstairs by himself. Well, the stairs went straight down, and the sofa was so heavy he was afraid it would just slide down the stairs too quickly and smash him against the cement block wall, so he tied me to the end of the sofa and I was at the top of the stairs trying to be a counter balance and lean backwards so the sofa wouldn't move too quickly down the stairs. Well, it may sound good in theory, but I was afraid I would just end up flying down the stairs with the sofa bed and I started crying. So John yelled up from the bottom of the stairs, "Just wiggle out of the ropes and forget it!", and he managed it all by himself. Even though that isn't a fun memory for me, the new furniture that came the next morning was!
The laundry was down in the basement too, so I could keep and eye on the girls as they played. John had a big office desk down there with a phone jack and he would often sit there and pay bills and do work and make phone calls while I was doing laundry or ironing. On the other side he also had a huge workbench with his tools all hanging above it in another corner with a big light hanging over the workbench table. He always had some project going, or he was repairing something that needed fixed. Life was exciting for us back then just doing the everyday things and watching our girls play. I ironed everything back then, even John's handkerchiefs and I shined his shoes, and always had dinner ready when he came home. We never ate fast food, and we always ate as a family. John had a good job and I felt loved and protected and provided for, and I just wanted to be a good wife and mother.
Back to the house,...In California I never had a basement and so it felt like you got twice as much living space, and I really enjoyed the basement, even though it wasn't finished off. We also had a nice ping pong table that John's friends from work gave us as a wedding gift since they knew John was getting 3 kids along with a new bride! We all enjoyed playing ping pong, but none of us could ever beat John. He was an expert!
We got a little puppy soon after we got married and he was a Sheltie named Poco. He was a pure bred and his full name was,...Hogeland's El Poco Lobo. But after living with that crazy little doggie we soon said he should have been named El Poco Loco!
In our house we had white carpet in the living room, dining room, hall and 3 bedrooms, so John trained our little doggie to stay off of that carpet and only allowed him to go into the areas of the house that were tiled, and also the family room which had darker carpeting. That dog obeyed and would not go where he wasn't allowed, when we were home. But,... sometimes we would drive up into the driveway when we had been gone from the house for awhile and we would see Poco looking out the living room window! By the time we got inside the house he would be back in the rooms that he was allowed in and acting all innocent. 18 months later when we moved to a new house that we built we gave him full run of the house since he wasn't a puppy anymore and he was well trained.
Yes, we lived in our first house for 18 months and they were happy days for us. I liked so many things about it, like the moss rock fireplace in the family room that was just off of the kitchen and eating area. But since two of the girls had to share a room we decided to move to a 4 bedroom so each could have their own space, and as I said we built a new home. But we only lived in the new house 18 months too and then my husband changed jobs and came to work for Boeing here in Wichita, and we have been here for 30 years.
Two years ago we built a new home and we are enjoying it very much. It is a lot different than that first house in Colorado, and there are so many great things that I love here. But it has been fun thinking back to our first house together where love made us a family.
Thanks Lynnette for picking this topic today! And if any of you would like to join in, just write a post about your first house together and click on the button at the top and link up.