You can read the words on the slide show.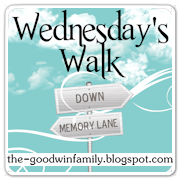 Today for Wednesday's Walk I thought I would share my love for Amy Grant.
She has gone through some hard times in her career and in her personal life. Haven't we all had trials and disappointments in our lives too? I don't believe in divorce and yet I ended up getting one after 9 years of marriage. At the time I wasn't living for the Lord...but I had been raised in church, and I knew it hurts God when we break our vows of commitment. Amy struggled with the same thing. But praise our merciful Lord that He didn't give up on us!
This second marriage of mine has lasted for nearly 35 years (this July), and now that we are both Christians we know that it is until death we do part! (:>) Amy and Vince Gill have been married for about 11 years now, and I wish them a long and happy life!
It is so easy to judge others when we haven't walked in their shoes isn't it? God doesn't throw us away when we sin. When we confess our sins He is faithful and just to forgive us our sins, and to cleanse us from all unrighteousness.
When we are humble and broken before the Lord, He forgives and forgets. It all depends on our hearts. Man looks on the outward appearance, but the Lord looks on the heart. I think that's what this song is all about!!!
I love Amy Grant! I love this song! How about you?