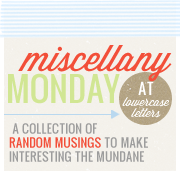 For Miscellany Monday I decided to share
The Old Geezer
blog with you. Click the button above to link your posts and to join in the Monday fun, after reading Ron's post today.
Meet Ron
...
The Old Geezer
(He had this little saying on his blog and I thought it was so cute...cuz I too feel like several of my friends live in the computer too!)
I follow this blog called...
The Old Geezer
...and today's post was so good I thought I would link you up to it. Ron is a Christian and he always has something encouraging to share. Please click over to Ron's blog for a visit. It will touch your heart today.