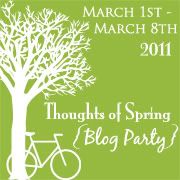 Yay! It feels like Spring has arrived, because my daughter Lynnette is doing a Spring Blog Hop! If you would like to join in the fun just click on the button on the top of the page and she will give you the rules and show you how to link up your post! She is having some amazing give away prizes from herself, and some very generous sponsors totaling nearly $500.00! So you won't want to miss out on your chance to win something wonderful!
She gave us a list of questions to answer. So here are my answers, so that those who don't know me can find out a few things about me. All of you who do know me will not find out too many new things...I am pretty "constant"...or maybe boring! ((smile)) You may have heard all of this before.
How would people describe your personality? (If they could only use ONE word.) Are they right?
"Constant"
...Yup...that's pretty much me, unchanging! I do have my crazy moments...but I am mostly a type B personality.
What celebrity/celebrities would create a "Star-Struck" feeling if you saw them in real life?
Hmmmm, let's see??? Maybe Amy Grant and Vince Gill. I have told my husband I would like to go to their concert if they ever come to town together. We like their music.
And we have gone to see Reba and George Straight and we enjoyed them too. But really I am not a groupy type! (:>) But one of my favorite actresses is Sandra Bullock.
Who is your favorite blogger? Why?
Well, I love Kelly @
Kelly's Korner
, and her Mom Judy @
His Door Keeper
.
My two daughters...
Lisa
,
and
Lynnette
And Lynnette's kiddos who blog too.
My two adopted blog daughters... Kristin and Veronica.
My friend Sarah with a new baby girl Debby...she calls me the adopted Grandma.
My cute friend Becca and her two little girls.
My adorable friend Jenilee...with her fun hubby and three little girls.
My Grammy Girlfriend Teresa....and her precious grandkids.
My friend Deanna, a fellow Kansas girl, and daughter Ashley DeLen.
My friend Leighann who's son Ryan was born with some serious issues and I have prayed for him ever since he was born. She is an inspiration.
My sweet and faithful comment friends:
Rebecca
the beautiful "pink" and frilly gal. Kelly who ministers to those who have lost children...as does sweet Holly. Caroline who has such a kind heart and sweet spirit, Amy who helps those who are trying to adopt. Karin, and Verna are always there for me with words of encouragement...oh my goodness I could go on and on, I just love all of my sweet blog friends and I want to just name all of you! I have 201 followers and I follow 250 of you special people.
So here is a blogger award for all of you! You light up my life!!!!
What is your comfort food/drink?
Mashed potatoes with lots of butter and salt. Homemade macaroni and cheese made with cheddar cheese. Spaghetti and garlic bread. Hot cherry crisp with All Natural Breyers Vanilla Ice Cream on top. Hot English Breakfast Tea with milk and sugar. And shortbread! I find all of these things comforting....but not eaten all at the same time of course. (:>)
Be brave – tell us something very random and weird about yourself.
I sleep with 5 pillows! One big Temperpedic one for my head, one small travel pillow between my knees, and one between my ankles, for side sleeping. One standard pillow to hug..and another little travel pillow scrunched under my neck to get it in just the right position. I started doing this a couple of years ago after a slipped disc and pinched nerve problem that gave me terrible pain. When I turn over during the night I have to reposition almost everyone of them! Ok...now that's weird isn't it? Yes...and it makes for a lumpy bed! PLUS, I also heat up my rice heat in the microwave and often put that under my back if it hurts, or on my head when I have a headache...or on my tummy if I have a tummy ache! My goodness there is barely room for John in this bed with all of this stuff! ha! (He loves me anyway...and often offers to re-heat the rice heat for me, cuz he is such a sweetie.)
Do you have a strong desire to do something you've never done? What is it?
I want to go to the New England states in the fall and see all of the beautiful trees, and stay in little towns, and go to quaint shops in Vermont and buy fresh maple syrup etc. I always say this is on my bucket list before I die.
Movies: Action, Drama, Romantic Comedy, Documentary, Comedy? What are your favorite genres?
My favorites are Romantic Comedies... and Christmas movies and kids movies.
But I do also enjoy Dramas. Oh, and movies with a Christian emphasis, like
Facing the Giants, Fireproof, and The Grace Card etc.

Books: Fiction, Non-Fiction, Romance, Biographies, True Stories, Self-Help, Devotional/Study? What are your favorite types of reading material?
All of the above! I love to read.
Music: Funk, Rock, Country, Jazz, Classical, Film Score, Blues, Classic Rock, Crooner, Alternative, Heavy Metal, Techno? What are your favorite types?
I like Christian music of all kinds. I like Country music too and big band forties and pop fifties music. I also like classical, some film score...especially what my grandson Jared composes, and I like some jazz and blues and crooners.
If you inherited a million dollars, what is the first thing you would do with your money?
First I would tithe...and then I would give money to each of my kids and grandkids, and a few special friends and other family members, and some needy people. Then I would pay off our house and bills... and save some, invest some...and then go to Italy.
Name one weakness of yours (confession is good for the soul).
I am not always slow to speak and quick to listen. I sometimes say something in haste that isn't nice and wish I could take those words right back. Oh...I am too preachy too. I truly want to be a meek and gentle spirit and to speak the truth in love always....but I am not always like that....especially with my hubby. But I am so thankful that he always forgives me.
If you could live anywhere at all (and take all your loved ones with you), where would you go?
I would say some place with wonderful weather and beautiful landscapes, and an ocean close by...
But I wouldn't want it to be too crowded, polluted or too much crime. Sooo I am going to say HEAVEN! I want all of my loved ones to live in heaven with me....and to be reunited with those who have gone there already.
Strange Talent? Can you juggle basketballs, put your legs behind your head or some perform some other strange feat?
I can act like a monkey pretty good. Just ask my kids and grandkids.
What's something you consider yourself to be good at? (Don't worry, it's not bragging, it's acknowledging a God given gift).
Well I think it is so funny how just in the last couple of years I have enjoyed writing poetry...and people have told me they enjoy it, so I would say that.
What is one of your favorite things to catch a whiff of?
Honeysuckle and Gardenias. Both make me think of my mother who loved both of those fragrances. And we had honeysuckle growing on our fence and she would cut it and bring it in the house sometimes!
When you leave a social gathering, do you wish: You would have talked more or You would have talked less?
When I am in a big gathering I don't find it easy to talk much. So I guess I would say maybe I wish I could talk more. But in a one on one situation I come home thinking maybe I said to much!!!!
If money wasn't a factor, what stores would you shop in?
I just can't think of one certain store, but if money wasn't an issue maybe I would say a furniture/decorating store. I love to decorate...and it would be fun to re-do or add some special pieces.
And as far a clothes, shoes or jewelry I would maybe like be able to pick things that were nice quality, really unique, something that I loved, and that fit well, but not have to worry if I was spending too much. Just pick what I liked without looking at the price!(:>) But in reality...I don't buy expensive stuff. And I like comfort!
What is your greatest fear?
A serious car accident. (My mom lost her right arm in an auto accident and lived most of her life with only one arm.)
(This was not an accident of anyone that I know.)
What is your greatest accomplishment?

Being a wife, mother, grandmother, and friend. However God gave me every one of them, so I can't brag. I thank God for all of them. I do hope that when I leave this world they will think I was a good wife, mother, grandmother, and friend.
What are your favorite animals?
I am in awe of all of God's creatures...but I am not really an animal person...as far as having pets. At the zoo I like the elephants and giraffes...and I have always thought buffalo were awesome. And I love butterflies!
Are you a hopeless romantic?
Yes, I think I am....even at my age! And I love happily ever after!
What movie or book character can you most relate to?

Now days I am so forgetful I can relate to Dory in
Finding Nemo!

I love that movie!