Rise and Shine
...By Linda Hogeland…July 2011
This morning when I got out of bed
I looked out the window and saw a big ball of red
It was the sun rising in the sky
Yet great drops of water were falling from on high
I thought to myself how can this be?
Sunshine and rain simultaneously!
We need the rain, so I won't complain
But sunshine and rain were just messin' with my brain
The rain usually falls on a cloudy day
When the clouds hide the sun till the rain goes away
But this morning none of that was true
The rain fell from a sky of blue
Do we shine for Jesus in that same way…
Are we rays of sunshine on a dreary day?
Can people see Jesus living in us…
When the rest of the world seems to argue and fuss?
Are we a bright ray of light when people are sad
Or a calming balm when someone is mad?
We can be rainbows after a storm
Or even in the midst, if our love is warm
We can be shelter, a place for people to run
When all of life seems to be coming undone
We can be an umbrella held out to a friend
A covering of mercy, a shield from the wind
What better time will there ever be
To offer help... than when people need me?
So as I poured my coffee I gave it some thought
And decided to try all that Jesus has taught
He showed us examples time after time
And He expects us each morning…
to rise and to shine!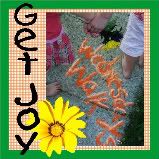 I'm linking up with Wednesday's walk today. Why not link your posts and tell your story!