I was a chubby little toddler in this picture!
When I was a child photographers came into our neighborhood with a pony and they would sell you pictures of you sitting on that pony. This day my mom had them take a picture of me and also of my baby brother Danny. I can remember it, so I think I had just turned five, and it was the summer just before I started Kindergarten. My brother was just over two.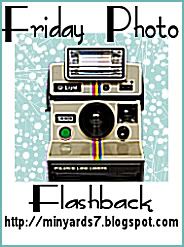 I joined in on Friday Photo Flashback today with my Memory post. If you would like to link up too...just click on the button above and find out how.
Memory Lane
The older I get, the more I find myself wandering down "Memory Lane". It's a pleasant place to visit and I enjoy my time there. The memories are vivid, and the stories that play out in my mind bring warm fuzzy feelings and happy remembrances.
It seems as though it was just yesterday, instead of decades ago, when I lived these scenarios, and I see them as clearly in my mind as though I were truly there today. This is so strange, because there are so many things in my life today that I don't remember from one day to the next, and yes, I have the episodes like most Seniors do, when I can't find my glasses or my keys, or other things I have misplaced around the house. But in-spite of the "Senior Moments", my memories of my youth are embedded in my mind and I shall treasure them always.
This morning as I awoke I realized I had been dreaming of the ocean and in my dream I was a child walking along the sand looking for shells. I could feel the warmth of the hot sand beneath my feet in my dream, so I quickly went to the water's edge and let it bubble over my feet to cool them down. As the water receded I could see little shells and tiny creatures in the silty sand and I would reach down and scoop up a hand full to see what treasures I could find. In my childhood I never tired of this, and my visits to the seashore are among my happiest memories.
As I awoke and remembered parts of my dream I lay there in bed with feelings of contentment. I arose and slipped on my house shoes and came in here to my front bedroom where I am sitting in my wingback chair typing this out on my laptop computer so I can carry on with these feelings of contentment, and relive my childhood memories once again.
A few days ago my husband pulled up a map on the internet of the area where I grew up. It was fun to show him on that map, all of the places around my home where these memories played out when I was young. As I pointed on the map and said things like…"the Elementary school was here, and the Junior High here, and the High School further down this street…oh and several blocks up this way was the park where my brother played baseball and my friends and I would walk down to watch him play. Across the street from the Elementary School were a barber shop, and a gas station where we would put our quarters in and pull out a big frosty bottle of pop from the icy cold water in the pop machine. Next to the gas station was the Post Office, and across the street was the little neighborhood market called Cliff and Maudie's and the Dime Store was next to that! Both of those little stores had small houses behind them where the owners lived. I always thought it would be so cool to own a store and live behind it like that."
I went on and on and I showed my husband the streets on the map that we took when we drove to the beach and the bay areas, which were only 7 miles away. When we were little we went to Newport Beach and Newport Bay, and further on down to Balboa Island and Balboa Bay. Balboa Island had an arcade area and an amusement park , and there was so much excitement and a lot of fun activities going on as we walked along the boardwalk. There were flashing lights and bells and music from the machines, and food areas where you could buy corn dogs, and snow cones, and cotton candy…and just about anything you could ever want to eat! There were boat docks and big beautiful sailboats out on the water, and you could also rent boats, or pay and go out on cruisers with large groups of people. I only remember doing that once or twice…but it was a fun adventure for me.
At the beach there were so many seagulls soaring around and landing everywhere, and you would see them walking and even running on the sand. They would even dip down and snatch up a fish now and then as they flew low over the water. Balboa always had a lot of activity going on, but if we just wanted to lay on the beach and tan, or go for a swim, we preferred Newport Bay. It was a much quieter place and it even had a little floating dock that you could swim out to and climb onto and then dive off or jump off of.
As we lay on our blankets relaxing in the warm California sun, with our little transistor radios playing Elvis or Ricky Nelson, or some Frankie Avalon songs, we would often hear the chimes from the ice cream truck as he pulled up into the parking lot. Ice cream never tasted as good as when we ate it at the beach. As a matter of fact, for some reason we always got really hungry when we would spend a day at the beach. Usually we would take a picnic lunch along too, but by the time we got home for dinner we were ready to barbeque some hot dogs or hamburgers and some corn on the cob, or bite into some juicy, ice cold, watermelon!
I lived in that same house until I was married, so there are a lot of memories from that house and that neighborhood. And lots of memories from our little white steepled church where I attended as a child. In my mind it seemed like it was several miles away from where we lived but John showed me on the map that it was only about 3 miles away. On my last visit to California I didn't go by that little church. I wonder if it is even still standing today. It was pretty old when I was a child, so it may have been torn down by now. Buildings may come and go, but as I said, my memories will remain forever.
I find it fun to write my memories down and leave them here in my computer, or to put them in my blog posts. I enjoy my strolls down Memory Lane, and I hope you do too. When you walk along with me you may hear a repeat now and then...but I think you will also pick up new nuggets along the way on each walk.
Linda~~~January~~~2010