Today on Monday Monthly Poetry I am re-posting a poem I wrote about my granddaughter Abigail a few months ago. If you would like to participate, just click on the button below and join in the fun.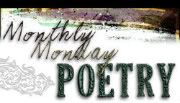 Abigail's Sonnet
My heart has felt the strong emotion
the forceful tugging at it's strings
A beautiful and deep devotion
brought to me on angel's wings
How can one so young and tender
know the depths of her own soul
Moved by such immense elation
drawn by music's drumming roll
Only God can stir the longings
Only He can give the gifts
Only as we yield to promptings
Can we glean His benefits
Music, art, and soulful writings
flow from her with graceful ease
To my heart with love so haunting
bringing me to prayerful knees
Thank you God for one so lovely
Blessed are we to know her well
What a gift of such proportion
When you gave us Abigail!!!!!!