I am in BIG TROUBLE with my girls after I did this post earlier,...They made me apologize for posting pictures of their dirty clothes on the floor and the drawer with their personal stuff hanging out. They said those things should not have been posted on a blog where EVERYONE could see them! So, I am deleting those pictures, so my almost 10 and almost 11 year old granddaughters won't be mad at me any more. I love having them here with me this week and I don't want to hurt their feelings or make them mad at me anymore,...so I am changing this post and removing the pictures that "offended them"
We went to Pizza John's for lunch and they were telling me at lunch that they were offended by my blog about them being messy. Does this picture look like they like Grandpa better than me? I'm just teasing,...but I am changing my post and deleting the pictures that upset them!
Notes to Grandma and Grandpa are found
Papers grace our fridge again
Rocks are found on our counter tops
Notices from VBS and Bible verses to memorize
Grandma is driving precious cargo around town, (Don't kick Grandma's seat Adelynn!)
Bailey is helping Grandma keep up with the energetic little girls, (Notice the little hand over Bailey's Head?...Yup those fingers are Julia's)
Julia giving me a sweet smile.
Adelynn playing with my neck pillow
They love the slide at the pool
Bailey "chillin' out" on the 100 degree day
Sisters jumping in the pool
Here we go again!
Sisters, and cousins at play
Laundry for Grams
"Who us? We're not up to something!"
Not twins,...just sweet sisters who are a year apart
**************************************
On Tuesday my daughter Lynnette did a blog called "Because Kids Live Here", and you were supposed to take pictures of amusing things that your kids did,...or pictures of funny places they left things etc. Well, this week I have two of my granddaughters here with me,...and I suddenly realized that I could make a post about my week with them,...so I am posting about, "When Kids Live Here",...(This Week!) ((smile)) And this will also be my Wednesday's Walk memory blog for this week too.
If you would like to join in the fun, just click on the button below and then link up your post with Mr. Linky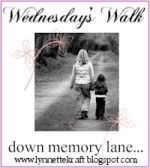 ...so we can read about your memories,...or see your pictures of what's happening around your house!