Today on Wednesday Walk I am posting a poem that I wrote. If you would like to join in today, just click on the button below and link your post.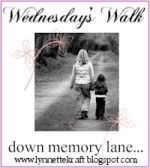 Tulips
The tulip has great strength as it pokes up from the sod
The strong green leaves surround the bud and acts as a facade
Then as the leaves spread open and the colored heads appear
The beauty of God's planning often cause my eyes to tear
The jagged edge is lacy as it gently opens wide
And as it does,… you will be blessed …by the beauty found inside
The stamen stands so proudly in the center as on cue
And the colors vary greatly in the star shaped colored hue
Their splendor is a statement, yet in a simple way
They give a casual beauty to a lovely new spring day
I clip each color gently as I picture my display
I gather quite a bounty and they form a big bouquet
They grace my table sweetly as they stand so straight and tall
And then with time they curtsey and they take a humble fall
It's like they're bowing over to give their quiet nod
To their talented creator,…to the Great Almighty God
Each time I see a tulip…. my heart is drawn to Him
So I think I'll plant more tulips… and let the praise begin!
By Linda Hogeland June 2009