This week for Wednesday's Walk I thought I would share some pictures from our trip last week to Nebraska for our nephew's wedding. If you would like to join in today, just click on the button below and link up your story with Mr. Linky.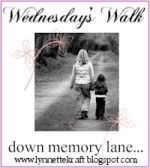 John and I drove our van on our trip to Nebraska last Thursday, to attend our nephew's wedding. Our daughter Lisa and her husband Brad, (who was the pastor officiating at the wedding), and their daughter Bailey followed us in their car.
I snapped some pictures along the way and said to my husband,... "when we drive this route you can sure tell we live in Kansas"! Lots of farmland and flat land, cows, horses, silos, wheat fields, and corn fields, etc. It is kind of nice to just get out of town, away from the hustle and bustle of life and just look out at the green fields and blue skies and clouds.
We stopped in a little town called Cawker City and took some pictures of "The World's Largest Ball Of Twine!" Can you believe that? ((smile)) It is 40 feet around and weighs over 17,000 pounds. Who would ever think of making the world's largest ball of twine??? Crazy! ((smile))
The wedding was nice and my son-in-law did a good job officiating, but I think it was the shortest wedding I have ever attended. It only took 15 minutes! The bride and groom wanted it that way. The dinner, reception, and party however lasted the rest of the night.
It was nice to spend time with family and friends, and a good time was had by all.
But I found myself wondering how this little curly haired nephew of ours grew up so fast? There he was standing next to his little dark haired beauty with stars in his eyes and love in his heart, pledging to love and to cherish from this day forward as long as they both shall live.
I do hope that Simon and Glynna will live happily ever after! And that God will bring many blessings into their life together.
It doesn't seem that long ago when John and I had a reception at that very same Country Club, (the old building though), as we started our life together.
And yet it is possible that before too many more years pass by, we will start attending some of our GRANDCHILDREN'S weddings! Life indeed flies swiftly by. Every day truly needs to be treasured.
Me taking pictures and being silly!
My John doing a good job driving...oh I love this man!
Kansas= blue skies, white clouds, green fields,... a beautiful day!
Kansas Road to Cawker City
Bailey in front of The World's Largest Ball Of Twine!
Lisa, Bailey and I
John and I
Brad and Lisa
Pastor Brad
Our niece played the music
John read Scripture
Three of our Aunties
Taking their vows
The happy Mother and Father of the groom
The new Mr. and Mrs. leaving the church
The bride and groom cutting the cake
~~~~~~~~~~~~~~~~~~~~~~~~~~~~~~~~~~~~
I love weddings!!!
Thanks for letting me share this with you today.