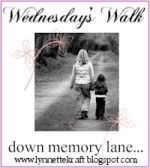 To join us on "Wednesday's Walk Down Memory Lane",...click on the button above!
These two precious girls are my granddaughters Julia and Adelynn. This picture was taken a few years back when they were in a Christmas program at their school. These girls are close in age, so people always ask if they are twins, and to that question they always reply,..."No just sisters!"
But these sisters may as well be twins because they are so very close. They do everything together. They have two older brothers who share a room, and Julia and Adelynn also share a room. They wear the same size clothes so they can always share.
But I do think the youngest one, Adelynn does have slightly bigger feet, so she may wear a bigger shoe.
When Julia and Adelynn come to spend the night with Grandma we have a lot of fun. I have mentioned in another blog post that they like to play in my Victorian room and dress up with old hats, and gloves, and shawls and jewelry and play like they are friends staying in a nice hotel. They play like they are on vacation.
They put post-it notes on the two guest bedroom doors and write room numbers on them. Then they ring a bell and I act like I am bringing room service to their rooms. I bring tea and cookies or other goodies on a tray, and they open their play purses and give me tips with their play money.
They keep me hopping as they ring the bell to request stationary so that they can send a note to each other's rooms. They ring it again when they want to request that I bring magazines for them to read, or when they want to know if the hotel gift shop is open. We use the dining room table and play that it is the gift shop and we fill it with all kinds of pretty things for them to buy. We have an old toy cash register and I ring up their purchases and put them in pretty gift bags and they return to their rooms.
At times they come and sit at the kitchen bar area and pretend it is the hotel lounge, and grandpa fixes them sodas. He told them he is a good soda jerk! They of course thought that was funny since they had never heard that expression before.
They share the adjoining bathroom and they ask me to draw their baths just before bed. Or sometimes they ask if the hotel has a Jacuzzi, and they use our master bath's jetted tub.
These girls always want grandma to put make up on them, and to paint their finger nails. They like to have a shot of spray on cologne too, and I brush their hair so that it will look nice under their hats.
This sort of play is so much fun, as I see them use their imaginations. It can go on into the night if I am not careful. And sometimes I have to say prayers with them and remind them that they do have to "sleep" when they come for a "sleep over!"
They never seem to be sleepy, but grams is always bushed by the end of the evening. So, since they are so wide awake, I put a movie in after we pray and they usually watch the whole thing before they fall asleep. I wish I had half their energy!
They remind me so much of their mother when she was little. It brings back happy memories when I watch them at play and think back to the play times I spent with their mommy.
Oh the years go swiftly by don't they? I am sure some of you are close to my age and know just how nostalgic I am feeling. And to those of you who are still young and have small children still at home, I just caution you to love every minute you have with them while you can. They grow up quickly.
As a matter of fact they even look much more grown up now than they did in this picture, because they are in the 3rd and 4th grades this year.
Thanks for letting me share my sweet girls with you today. It was fun!
Linda ~~~~April 2009