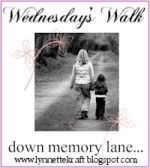 I thought I would clarify that my husband is not a big loser! ha! It is just the title of my post today. He cracked up when he saw that title over his picture!
Click the button and join us on Wednesday's Walk. Share a memory or special story with us and add the button to your post and link up with Mr. Linky.
This is a picture of my friend Toni and I when we met the Lennon Sisters in Branson Mo. This has nothing to do with my post, but I came across it and thought I would add it.
On this same trip we stopped at Lamberts~ The House of Throwed Rolls! Have you ever been there? My husband's skillet dinner picture (above) just shows how much food they serve you,...and they throw you more rolls whenever you want more. They also walk around with second helpings of Okra and Fried Potatoes and all kinds of fattening stuff. This is definitely no place for a dieter!
~~~~~~~~~~~~~~~~~~~~~~~~~~~~
~~~~~~~~~~~~~~~~~~~~~~~~~~~~
Last night the "Biggest Loser" show was on. I don't watch this show,...but I have seen parts of it now and then. I think it is amazing how hard they push these over- weight people, and how they teach them to be disciplined in their lives. The results are amazing!
I have been slim before. When I married my husband John,...(33 years ago) I weighed 121 pounds. Then little by little throughout the years I gained weight. Boy,...did I gain weight. I am now heavier than I have ever been in my life!!!! And I am so unhappy about it.
Just a couple of years ago I lost 60 pounds by being more active, walking, and eating sensibly. I had also cut back on salt intake, and was drinking more water. I had cut out pop, and chocolate too. I felt more disciplined and more "in control" of my life. It felt good to see some of the weight falling off. I gave some of my bigger clothes away. I had to buy some smaller sizes and I loved it!
Well, you may be asking "what happened to cause you to lose that discipline?", well let me tell you my story. LIFE HAPPENED! Life, and death, and illness, and other stresses. Now as I look back and think on all the things that happened in the past two years I can see what happened to my self discipline,....it flew out the window!
I didn't realize while it was happening, because it was a gradual process, but one thing after another altered my routines, and my new good habits went by the wayside.
We moved into a new home that we had built, and although it was fun, it was stressful at times. There were a lot of decisions to be made, and always things to think about. (Just purchasing custom blinds for the windows this last Oct. has taken over 6 months to get them installed properly as they kept having issues,...and they still aren't all installed). It seemed nothing could just be a simple process. Life is like that sometimes. But with stressful times food is often a comfort,...even when you don't realize you are turning to it.
I also woke up one day with a slipped disk and pinched nerve in my neck and for several months I was in constant pain, and the exercise dvd I used to do was now not an option. I couldn't reach over my head without horrible pain, and I couldn't even move my neck without turning my whole body in the direction that I needed to look. Reaching, bending, showering and washing my hair were very painful. I only found relief for short periods of time when I stayed in certain positions. I became very sedentary. I sat and I ate and I slept,...and I gained weight.
I got to feeling sorry for myself and I couldn't seem to come out of it. John would bring me ice cream and snacks as I sat in my chair and it seemed that only those treats seemed to lift my spirits. I had some pain pills but they made me sick to my stomach so I couldn't take them. I had several trips to the doctor and then they sent me to a pain specialist who did an epidural in my neck. A few weeks went by and there wasn't much change in the pain level, but then just before the second epidural I started getting better. And little by little my pain was gone. From time to time it comes back if I move wrong or sleep wrong or work over my head, so I have to be careful. Ever since then I haven't resumed my walking routines and exercises. The fear of getting that disk moved into that same position where it is pinching the nerve again, just keeps me from doing a lot of things I used to do. When it is pinched it makes my right arm numb right down to the finger tips, and since I am right handed it is hard to do things.
Well back to the order of my story.
My mother-in-law's cancer returned and that, along with her other health issues made it necessary for my husband and I to travel back and forth to Nebraska to help with her care. We were there for days, and sometimes weeks at a time. So, my eating, and exercising patterns were altered. It was hard to see her in a helpless condition because she had always been so self sufficient. Once in awhile I would go for a walk if my husband was there to sit with her, but it wasn't like the vigorous walks I had done routinely at home. I would cook for her and fix her goodies and then I would sit with her for long periods of time and just visit with her and watch tv. When we weren't with her, we would dread each phone call, thinking that it was going to be the family telling us she was gone. As it turned out we were there in Nebraska when she did pass away, but we had been made to leave her bedside to take a few minute break and run into town, and during that 5 or 10 minutes she passed while we were gone. This broke my heart because I wanted to be there with her. But God had other plans. Her daughter Becky was with her, and I think mom would have liked that she was the only one there, because they were very close.
After mom died we were back and forth to Nebraska several more times to clean up her house and sort through stuff and there again it was a long, sad process. Which isn't over yet. We still haven't gotten her house sold. John is the oldest in the family and a lot of the estate settling fell to him, and this has been hard for him. We both have been missing mom so much and trying to work through everything.
My sister in Oregon needed a lung transplant and was trying to get on the list. She was in and out of the hospital over a dozen times in a one year period. Kansas is a long ways from Oregon and I couldn't just jump in a car and go and see her when I wanted to. And she was always on my mind. I felt bad that I couldn't be more encouraging and available to her. I felt helpless when she would be in the hospital for weeks at a time, and I kept telling my husband that we needed to plan a trip out there because she might not make it through one of these hospital visits. So we did go last fall and I am so glad I did because she died on January 16th. We flew to Oregon for her service and I spoke and shared several of the special things about my sister Judy.
She was the oldest one left in my family, so now I am the oldest. It makes me feel very strange to think that I am now in that position. And there is only my younger brother after me. Where does life go? It seems like not that long ago we were the little tykes in the family, playing together and not having a care in the world. But we all grow up and face trials,...all of us.
And speaking of that my good friend's husband passed away and I am always trying to be available to her. We often go out to eat, or go for treats when we get together.
When you love someone you share their burdens. You cry with them and grieve with them,...as well as try to be there for them and encourage them. It has been hard to see her go through tough stages, and the ups and downs of grieving. My heart has ached for her many times. And it makes me think about the possibility that we never know when our spouse might get sick or pass away. It forces me to admit that it could happen to me too someday without notice. It seems we can never prepare for the loss of someone we love so much.
Just about 4 years ago we lost our 6 yr. old granddaughter Anna. It was so very hard to accept the fact that she was gone. Everytime we were at our daughter's house we felt like she could just come downstairs or from another room at any time. It just didn't feel right for her not to be there with her family. It took so long for it to actually sink into my head and heart, that she was gone. We miss her so much.
Then after Anna we had to help care for John's dad and 3 years ago in Feb. we lost him. Then we lost our friend that May, And a year and a half ago in September we lost John's sister. Then a year ago Feb. we lost mom. Then 3 months ago we lost my sister. So, you can see we have had many losses and stresses in our lives and situations that altered the routines of our lives. It is hard to get back into our routines. We still feel our losses at times.
But this story has a brighter side. We do have hope in our Lord and Savior, Jesus Christ. He has helped us during each of these situations. He has been there with us when we felt like giving up. He has been there when we cried out in pain. He is still healing our broken hearts. He is there in our devotion times. He hears our prayers that we pray for our friends and family members and our church family. He answers them and gives us hope and comfort. He does encourage us in many ways,... through friends, and family, and church members. And He does amazing things, and always provides for our needs.
I may sound like I am "the biggest loser", as I re-counted all of these losses of our loved ones, but I know that I am not. I know that there are lots of people worse off than I am. I know that I should count my blessings for all that I do have. I know that I have so much to be thankful for, and so much to look forward to in this life.
I have a wonderful husband and beautiful daughters that I love so much. And I have 11 terrific grandkids. I have 3 more of them in heaven,...and the good news is I will see them again some day. And yes, heaven is where I am going when I die, and that's where my husband will go when he passes,...and that brings me assurance of God's love. I trust in His promise of eternal life.
Now, even though I have gained weight I am still not simply going to accept it and stay here if I can help it. By God's grace John and I are going to start on a healty diet plan soon and hopefully we will shed some pounds and gain some more energy. We have some fun plans for this summer and maybe by then we will be feeling healthier and more able to be more active.
Say a prayer for us if you would and,...maybe I will be "The Biggest Loser" after all! (Concerning weight that is!) But on second thought I know John will start dropping it faster than me, because that always happens. Even when he cheats!
Linda ~~~ April 2009