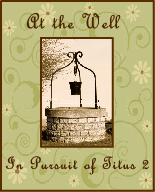 Today we are discussing mentoring. If you would like to join in the discussion, just click on the "At The Well" button above and link your post on Mr. Linky
Are We Following His Lead?
My mother was the biggest mentor in my life. From a child I always loved the Lord and wanted to know my mama's Lord better, and to have a relationship like she had with Him. She took me to Sunday school and church, and every morning she would pray with me before I went to school. She lived in an attitude of prayer and many times she asked me to join her on my knees to pray for others.
She always had Christian radio on and I could hear sermons, scripture, and uplifting music all through the day, at home and in the car. It was her way of being plugged in and tuned in to spiritual truths. My husband and I listen to Christian Radio now that he is saved too, and we glean from it throughout the day and night, as we leave it on in our kitchen and in our bedroom, and in our car. Just something that mama practiced that stuck with me when I started living for Him.
Everything in life can be an object lesson and a way to teach a child, or younger person, how to love the Lord. Mom would show me a flower bulb and when it was planted we would wait for it to bloom in the spring and it was a vivid lesson on the power of God to watch it poke up through the hard ground and see it bloom. She would take me to the beach and we would watch the waves roll in and out, and she would tell me of God's power and how He holds the ocean in its bounds.
And as I held my new baby niece in my arms, my mom would give glory to God for the miracle of a new life. It wasn't hard to see God in all of these lessons, and to know that I wanted to know this God of miracles better.
Do we make people hunger for God? Does our life make people thirsty for Him? Does the way we face our trials bring glory to Him? Or are we struggling on our own with all of our troubles?
My daughter wrote a book after she lost 3 of her children, and it tells of God's faithfulness to her during those times of great grief. It is called, "In Faithfulness He Afflicted Me". And it is by Lynnette Kraft, and available on Amazon.com. I think she is mentoring by sharing her faith with others who may be going through tough trials. Many people have read this book and been helped and encouraged, and Lynnette gives all glory to God.
Are we giving glory to God for all of our blessings? Because they all come from Him, and without Him we would have NOTHING.
Through my life I have always tried to mentor my 3 girls and also their children. I try to share God with them like my mama did with me.
Many Christian women have been an inspiration to me in my Christian walk through the years, and I want to be inspiration to others as they need it too.
As I look back, I can think of many times that the Lord did indeed bring people across my path that He wanted me to reach out to in His name. I haven't always followed his leading, but when I have it has been a great blessing to me as I try to share His love with others. Isn't it great how He will bless us when we try to bless others. I say "try", but I think that even that comes directly from Him, through us, to others. He is so amazing.
Another one of the ladies joining in the discussion today said that we should ask God everyday to send someone to us that we can mentor, or help. I think this is a great idea. And as I said we should always be ready to give an answer to those that ask us of the hope that lies within us.
Are we listening to His promptings? Are we looking for opportunities to share and care for others? "Are We Following His Lead?"
I am glad we had this time of discussion today and I am taking it as a challenge to see the places in my life that I can be used of Him.
And of course we need to know the scriptures so we can share them. II Timothy 3:16"All scripture is given by inspiration of God, and is profitable for doctrine, for reproof, for correction, for instruction in righteousness:"
Linda @ Truthful Tidbits