Heads up....The Spring Blog Party is Coming Up on March 1st, so get your posts ready and join in the fun. There are nearly 500.00 in give away prizes.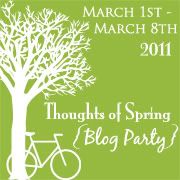 But until then read this post! I have some fun news!
Sweetheart Cruise and Family Pizza Party
We had a fun Sweetheart Banquet at church with a Cruise Ship theme, and this little gal is the Social Committee Chairman who made it all come together!
It was the Saturday night before Valentine's Day and we went to a special Sweetheart Banquet at our church.
As we entered the "ship" aka our church gym...we were greeted by the ship captain and his wife.
Then we got checked in and a sweet lady took our tickets, and assigned our dining table.
Some people were in formal attire...and some semi-formal...and some just in church clothes.
Dan The Man played love songs as we stood in line for a ship picture.
There were beautiful tables filled with food to nibble on, and a flowing fountain for sparkling grape juice while we waited to be seated in the ship's dining room.
We were serenaded as we waited.
Then we were seated at our assigned tables and dinner was served.
The entertainment was a group of talented guys who also sang love songs. And ended with the song Amazing Love...which reminded us of our Lord's amazing love!
The speaker was Craig Hartman who is a Christian Jewish man from New York, who was here to do a Bible Prophecy Conference during the week. He spoke on Love. And he is a really funny guy, so we were challenged as well as entertained.
It was a wonderful event and we enjoyed ourselves a lot.
Then on Sunday afternoon we met our family at a Pizza Hut and had a little family get together for Valentines. We reserve the back room for 20 of us and we all pig out and visit and have fun. Then we pass out our Valentines.
This gathering was special because we found out our daughter Lonna got engaged!
We are hoping that she and her 4 kiddos will live happily ever after with Dave...her special man!
(This picture is from the first time I met him...does it look like momma thought he was a nice guy?...and I was right...he is!)
And lastly...here is a before and after picture of my last hair appointment that I threw in just for fun. I had a cut and a darker color weave...but in this picture it is hard to tell. So I am adding another one outside in my car from the next day...and you can see a little more color.