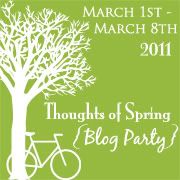 Do you feel like Spring will never come? Are you just itching to get out there and socialize after being cooped up this winter????? Well Spring is coming...and it's just around the corner...and to start it off right, my daughter
Lynnette
, over at Dancing Barefoot is hosting a fun Blog Party! It will go from March 1st to March 8th, so there is plenty of time to invite your friends and have them join in the fun along with you.
If you click on the button above Lynnette will tell you all about it...and she will have a list of questions to get you started on writing your post! These are just conversation starters to get ya talking with each other and to get us all to know each other a little better.
She has some great sponsors this year who are offering prizes for her fantastic giveaways. You will want to hop over there right now just to take a look at the cool stuff and decide what you would love to win!
Most of my followers know Lynnette...but maybe some of your family members or bloggy friends would like to come to the party to meet Lynnette and her quirky family! She's tons of fun...all wrapped up in a spunky little bundle!
So...consider yourself invited...and don't forget to mark the dates on your calendars. On March 1st she will have a link on her blog to connect us. (:>)
See you there!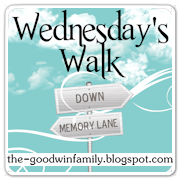 I am making this my Wednesday's Walk today too. (:>) There just seems to be too much going on to do a post today! But if you want to link a memory with Jenilee just click on the button and join in the fun!
Oh...and I do want to thank my sweet friend
Ashley
for honoring me with The Stylish Blogger Award! She is such a sweet gal and I enjoy reading her blog so much. And she is the "stylish" one! Hop on over and visit her. She has a hint for a beautiful complexion...Cinnamon and Honey Facial Mask!
And my sweet daughter
Lisa @ Life is Crazy Beautiful
is giving away a 25.00 gift card to CSN STORES...so head over there to leave a comment for a chance to win. It ends tomorrow Feb.23rd, and she will announce the winner on the 25th.!
(* Note: Sorry if you missed it...this giveaway is now over)
And one last thought: Please go see
The Grace Card
movie this weekend! It comes out on Friday Feb. 25th all across the country. But how long it stays will be determined by how well the opening weekend goes. In Wichita it will be at the Warren Theater on 21st street. John and I and two of my girls, a son-in-law, and some friends got to preview it...and I tell you it will change your life! We all need to extend more grace to others.