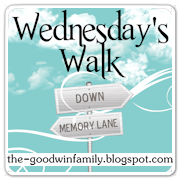 My friend
September
did a post for Wednesday's Walk today, and it was called..."Those Familiar Things". I loved her post. September has a very large family and she shares the joys of her busy life with us. I just love her...and so will you, so click on her name above and hop on over for a visit. I enjoyed her post so much I decided to do a post like hers today for Wednesday's Walk (Our weekly walk down memory lane!)
If you would like to post your memory, just link with
Jenilee
by clicking on the button above. Jenilee is our gracious and beautiful hostess each week. She has a fun-loving husband and three precious little girls who all keep her life interesting and happy.
Those Familiar Things From My Childhood
Beans on the stove and cornbread in the oven
The fresh smell of laundry that was brought in from the clothes line
Delicious hot cobbler made from the apricot tree in the yard
The slamming of the screen door each time my little brother ran in from play, needing a glass of water to quench his thirst
The warmth from the sunshine on my back as I lay on a blanket in the grass
Or the white fluffy clouds in a bright blue sky as I turned over and gazed heavenward
Birthday parties with friends and neighbors...pinning the tail on the donkey...and playing musical chairs....and making a wish when I blew out the candles
Sunday School, and Vacation Bible School, and the sweet pastor of my childhood, who was always kind and loving...and so very encouraging!
Stories my momma would tell me at nap time...warm hugs and snuggles...and loving the smell of her perfume
Beach time fun in Southern California...and picnics in the park
Ice cold watermelon, burgers from the backyard grill, and homemade ice cream
Saturday morning cartoons...The Lawrence Welk Show on Saturday night...then bath time and curlers in my hair...and the bonnet hair dryers that lulled me to sleep with the warmth and the noise
School time fun, carnivals and talent shows...and swinging on the swings and playing on the monkey bars
The milk man, the bread man, and the Good Humor Ice Cream man, and door to door salesmen, and the Avon lady and the Fuller Brush man too
Playing jacks for hours on the porch, or baseball with my brother and neighbor boys on the ball diamonds in the school yard across the street
Playing with doll babies and paper dolls, and then with real live babies as I became an Aunt at 10 and again at 11 years old when my older sister had her girls
Oh the joys of childhood and the happy memories my heart holds!