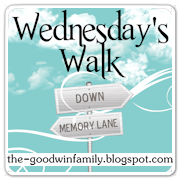 For Wednesday's Walk today I thought I would just share how the Lord brought me peace through prayer this week. I don't know about you, but when someone I love is facing a trial I always seem to carry their burden around with me. I sometimes let it weigh me down....but eventually I see the need to pray about it...and to ask others to pray.
You would think that I would learn to go to God
first
...but that is not always the case. I "feel" first...feel the fear, feel the "what ifs?"...feel the panic, and then feel my in-adequateness...and
then
I usually run to God...into His waiting open arms.
God is so faithful...and He gives us grace...and His grace
is
sufficient. He will give us peace when we take our concerns to Him. And this week He gave me peace after I went to Him in prayer...and after I asked people to pray with me. I am so thankful for all of those who prayed for me and with me. The situation hasn't been remedied...yet, but God brought peace to me anyway.
Charles Stanley's short devotion today paints a vivid picture of how God is our refuge in the storms of life. It really spoke to me, along with the Bible passages he used. If you need refuge today, and if you need peace in your life, please click on Charles Stanley Devotion below.
Charles Stanley Devotion